Use our
Vaccine & Test Tracking Platform
to comply with President Biden's Mandate for
100+ Worker Businesses
&
Federal Employees
.
Staff & Visitor Health Screening Made Easy

CheckVax™ by Fobi
✔️Fast, secure vaccine status verification.
✔️Custom health screening questionnaires.
✔️Track COVID-19 test results.
✔️One app-less solution.
CheckVaxTM by Fobi helps HR & Safety Managers implement and track health screening for visitors & staff in accordance with their regional health authority requirements. By using wallet pass technology, CheckVaxTM enables fast, contactless on-site check-ins and a frictionless user experience.
Wallet Pass Technology

Peerless Data Security

No Hardware Required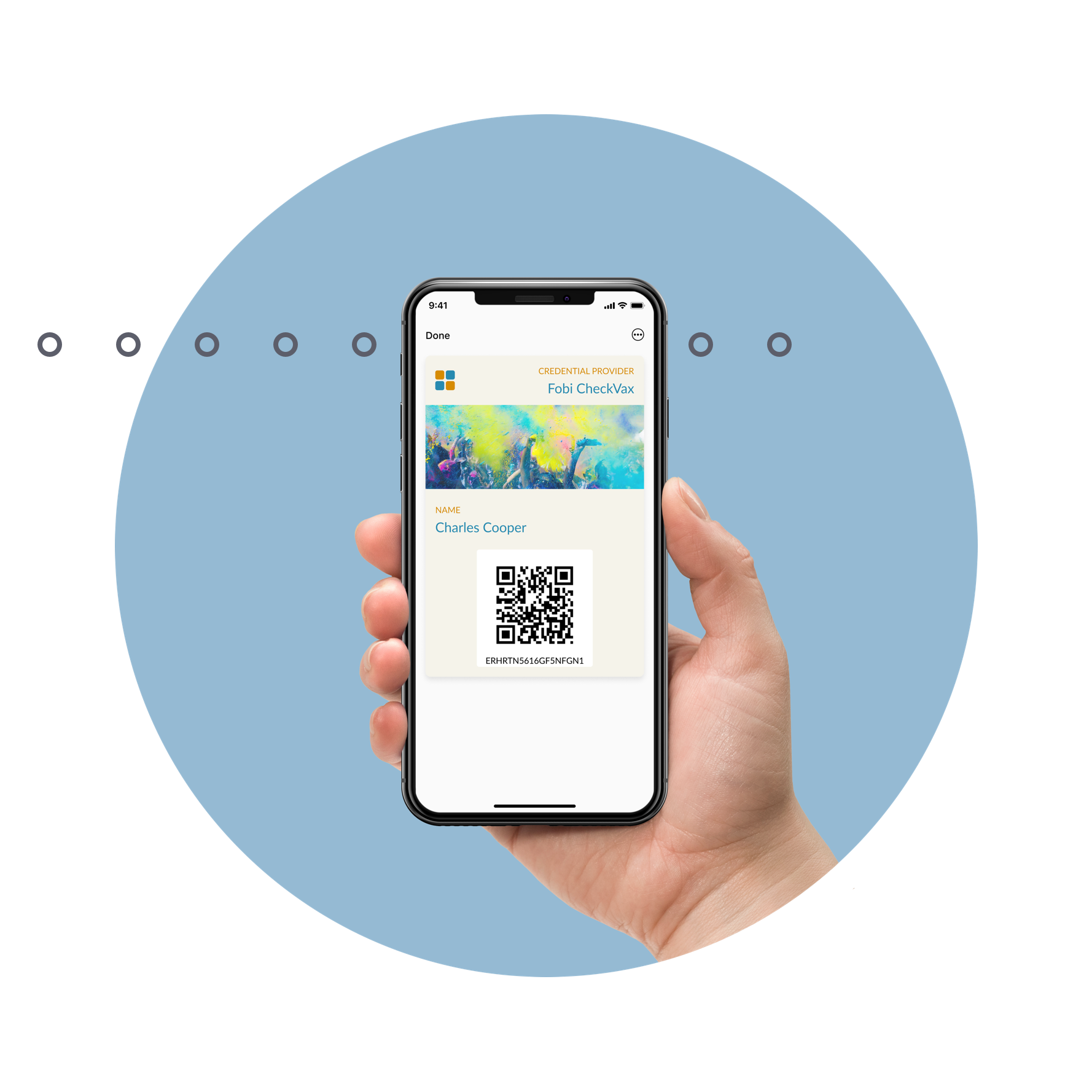 The Mobile Wallet Advantage
Securely store users' vaccination & testing records.
Deliver custom prescreening questionnaires.
Targeted notifications & alerts.
NFC tap functionality for contactless check-ins.
By using the mobile wallet pre-installed on all Apple and Android devices, users don't need to download another app on their phone to get their CheckVax™ Health Pass.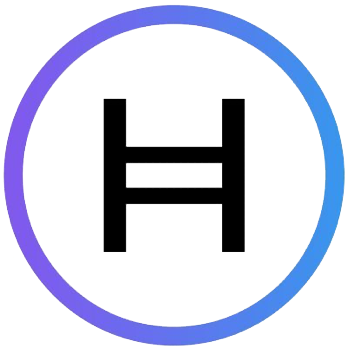 Secured by Hedera Hashgraph
Fobi's CheckVax™ signs & secures user data using the Hedera Hashgraph distributed ledger, offering unmatched data interoperability, scalability, and next-generation data security to meet the needs of large organizations anywhere in the world.
Hedera's Governing Council includes Boeing, Google, IBM, & Standard Bank.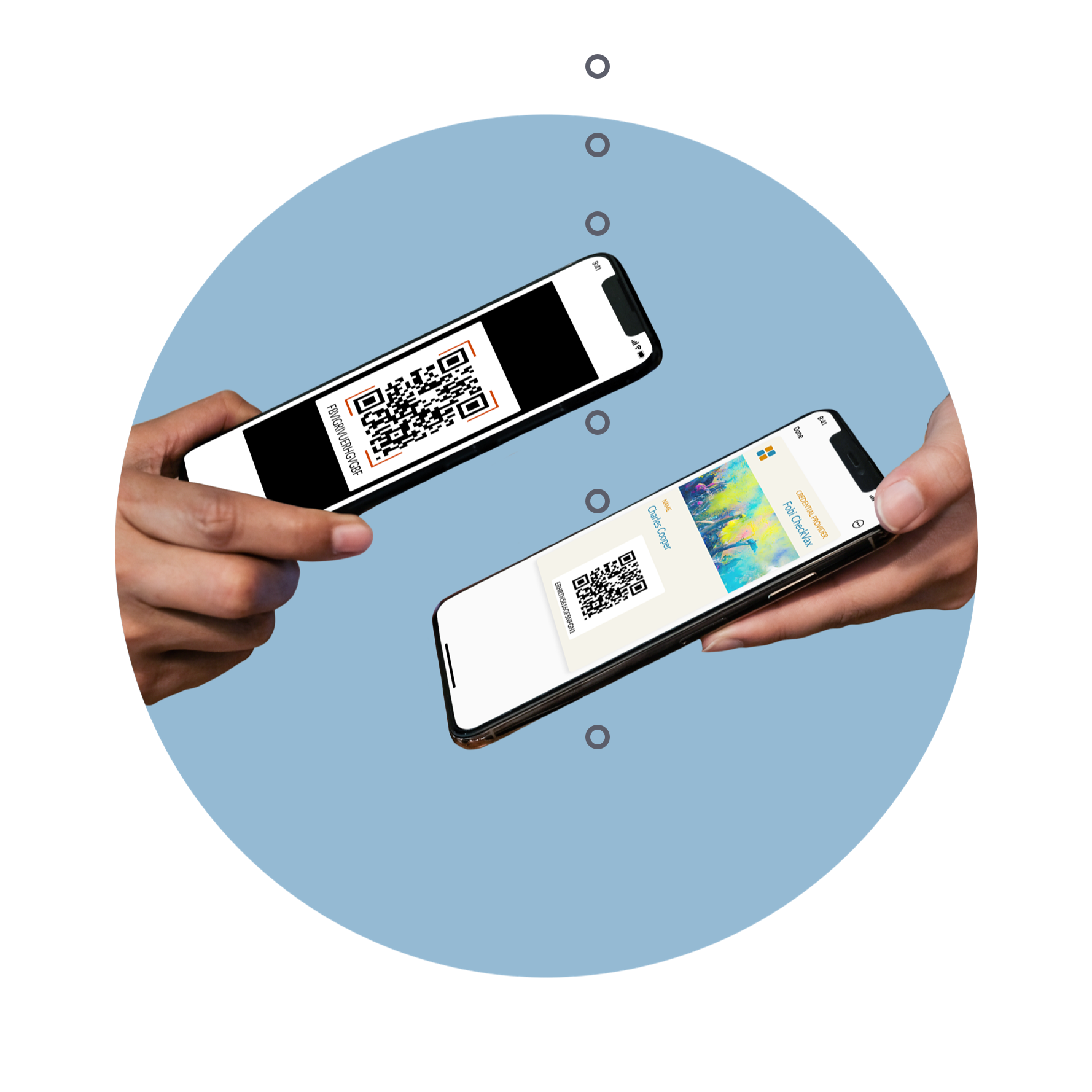 No Hardware Upgrade Required
Use Fobi's web-based validator tool to verify guests and workers vaccine passes anywhere, without costly specialized hardware.
Accurately validate visitors' health passes in under 5 seconds, to eliminate long queues and traffic bottlenecks on site.
Transport, Tourism & Hospitality
Screen staff & guests in accordance with local health authority guidelines. Easily manage large visitor volumes & vaccine credentials from different countries & regions.
Schools & Universities
Get specialized functionality to address unique health & safety needs on campus, including emergency alerts, multifunctional ID, & stored value for purchases.
Healthcare Providers
Control access conditions for patients, staff, & visitors in one system. Create & manage different access zones with contactless check-in stations. CheckVax™ securely stores all user data in compliance with HIPAA requirements.
Sports & Live Entertainment
Screen guests faster & minimize queuing with an app-less solution that can link directly to fans' digital ticket - or replace their ticket entirely. Wallet pass technology also enables mobile marketing, stored value, and more.
Brick & Mortar Retail
CheckVax™ helps brick & mortar retailers comply with changing health authority guidelines in your region and protect staff & shoppers in store.
CheckVaxTM For Workforce
From the jobsite to the office, from the warehouse to the shop floor; CheckVax™ makes it easy to screen employees in accordance with health authority guidelines.
CheckVaxTM For Public Sector
Developed with advanced data security & interoperability as core features from day one, CheckVaxTM is a secure and dependable choice for government & public sector organizations that require a flexible and easily scalable health screening solution.
White Label CheckVaxTM
Get CheckVaxTM in your organization's custom branding to invoke trust from users familiar with your organization and convey authority. CheckVaxTM is also available under a reseller license for distribution to your downstream partners and clients.
LEARN MORE ABOUT CHECKVAX™ BY FOBI
Success Story: University of Nevada
See why the University of Nevada chose Fobi's CheckVax to provide state-mandated health screening for attendees at all Rebels home games.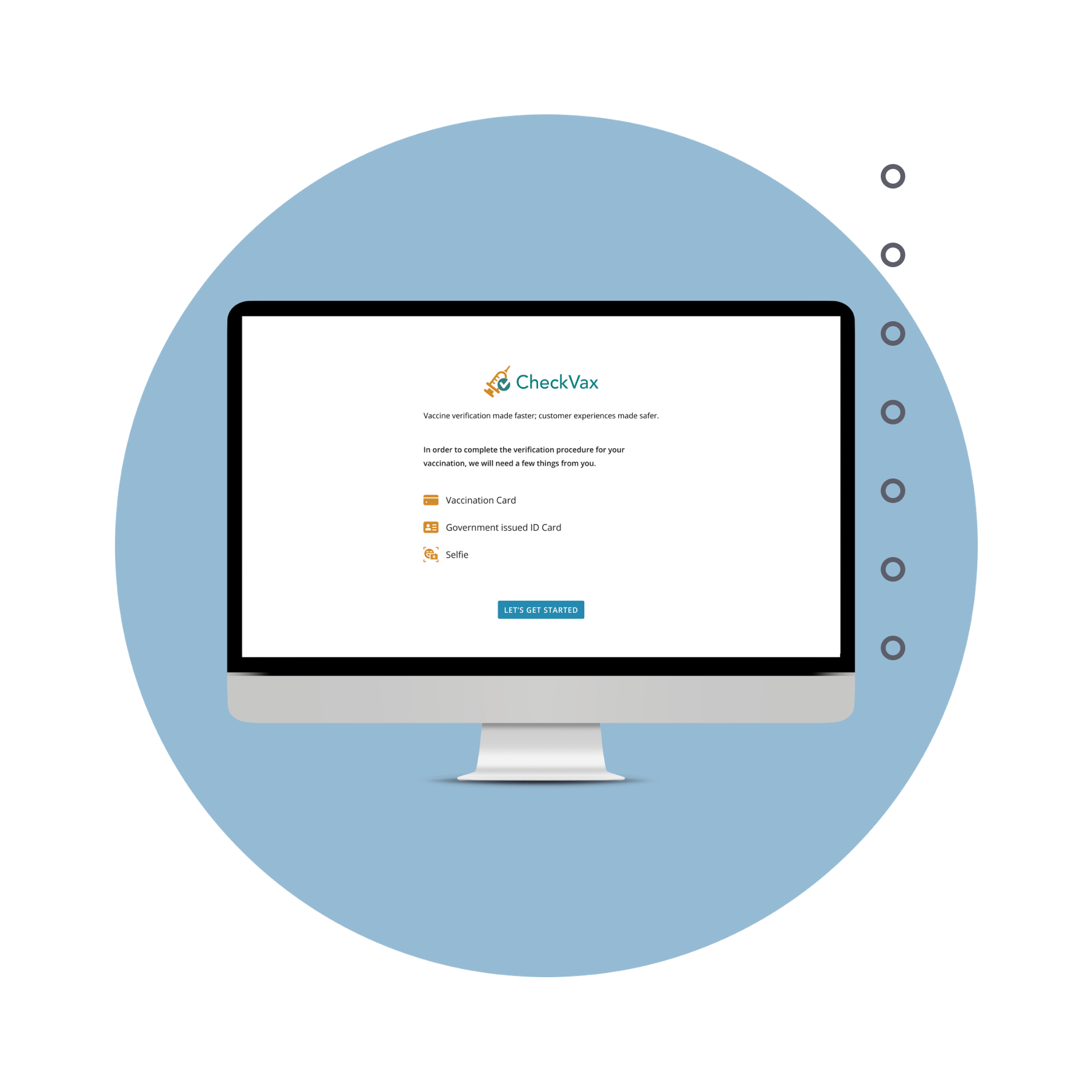 STEP 1
Register
Users submit their ID with their proof-of-vaccination or testing record into the CheckVax™ secure online portal.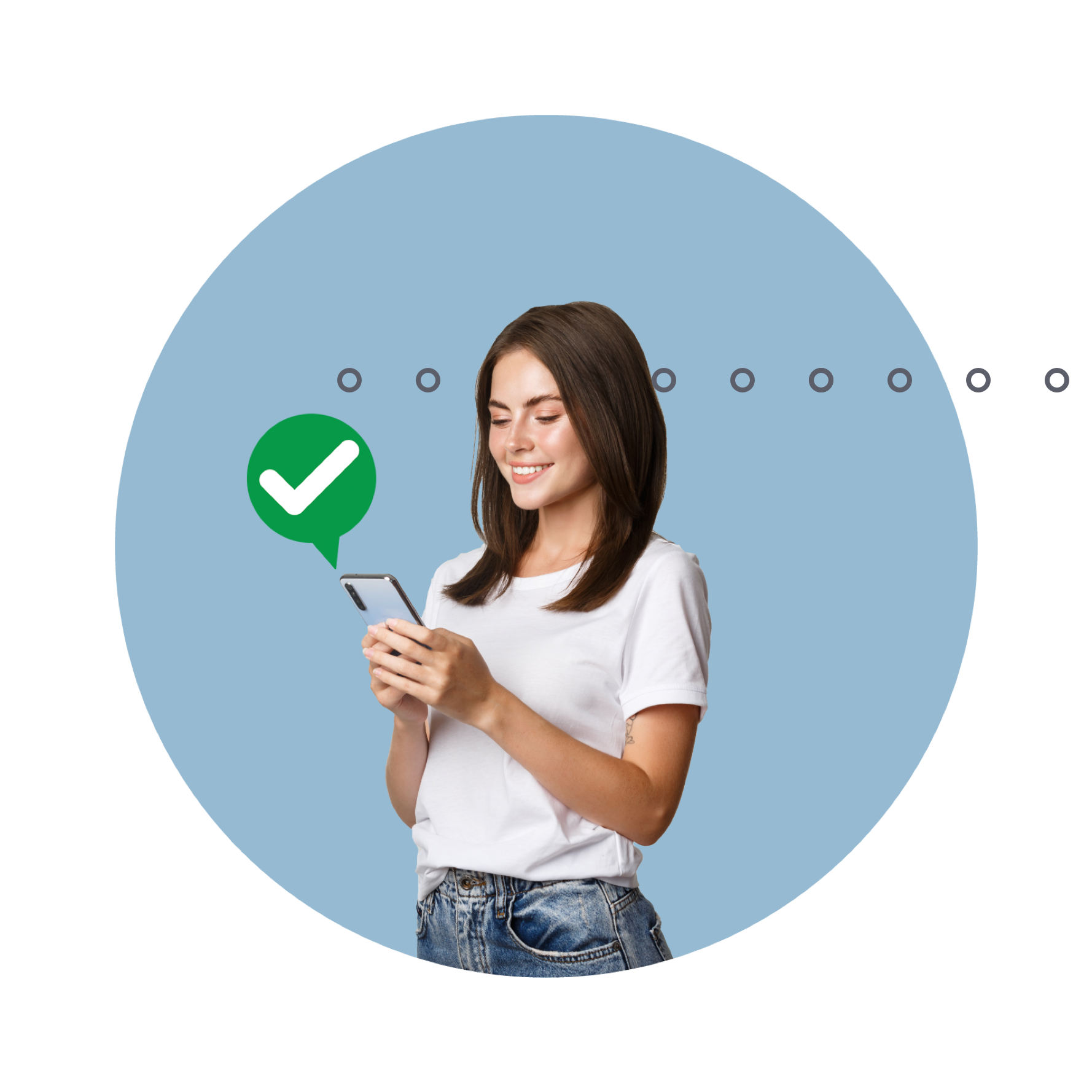 STEP 2
Verify
Fobi verifies that users' details are matching and valid, and creates their personal CheckVax™ Health Pass.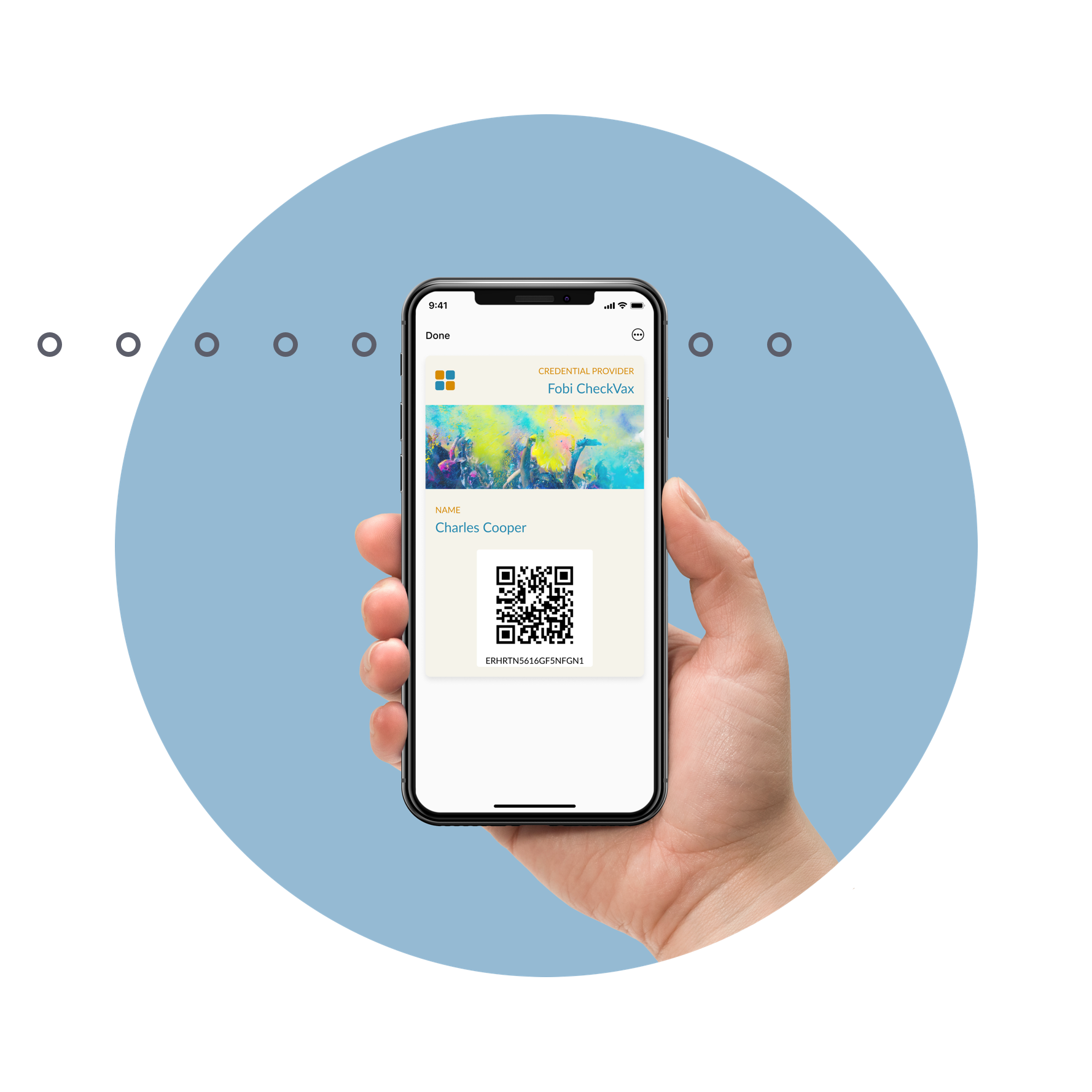 STEP 3
Download
Users get an SMS or email link to add the Health Pass to their phone's mobile wallet - without needing to install any apps.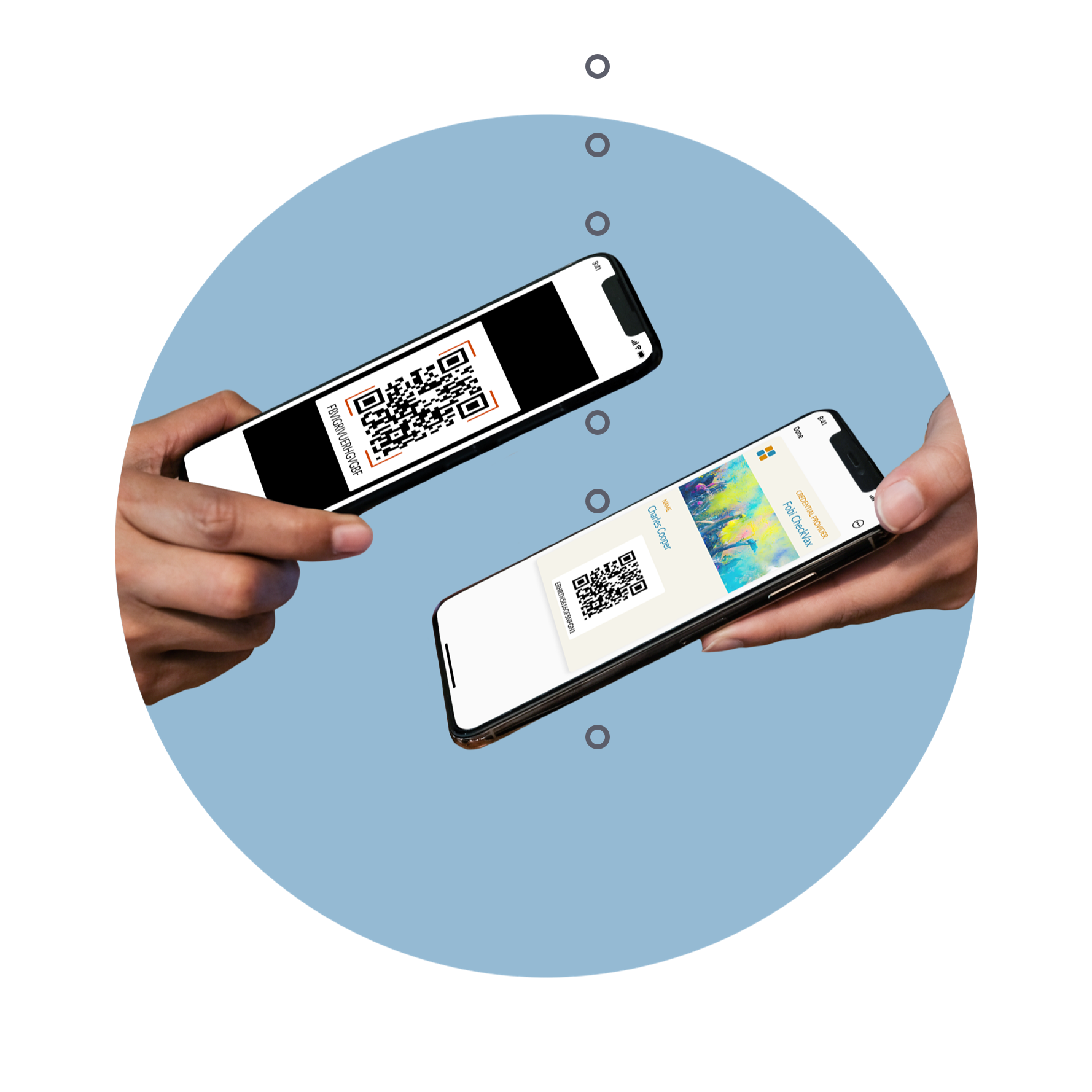 STEP 4
Validate
Operators can securely validate users' Health Passes anywhere, no specialized hardware required.
LEARN MORE ABOUT CHECKVAX™ BY FOBI
Download the Fact Sheet
As health authority guidelines continue to evolve, organizations without a strong health screening solution face higher compliance costs, & higher risk of mistakes.
Health Credential Verification
Fobi cross-checks users' submitted credentials to ensure validity, and issues their CheckVax™ Health Pass only when all required conditions are met. Users can submit credentials for themselves and members of their household.
Regional Standards Compliance
Screen visitors based on the specific public health guidelines in your region, including any additional requirements your organization needs like screening questionnaires and test records.
No App Download for Users
CheckVax™ is a completely app-less health passport solution that uses the mobile wallet pre-installed on all Apple and Android devices. Passes are tied to the user's device & there are no passwords for them to remember.
Contactless On-Site Validation
Active CheckVax™ Health Passes are validated with any phone or tablet using our online validator tool, our Smart Tap NCF device, your own barcode scanner, or visually. Check in visitors quickly & safely without any specialized hardware.
Next Generation Data Security
Fobi uses the highest standards for managing user data and PII. CheckVax™ Health Passes are digitally signed and secured on the Hedera Hashgraph ledger, whose governing council includes Google, Boeing, and Standard Bank.


Fully Customizable Branding
Get CheckVaxTM in your customized branding to invoke trust from users familiar with your organization & convey authority. CheckVaxTM is also available under reseller licensing for distribution to your clients or downstream partners.
Real Time Insights & Targeted Alerts
Get enterprise-grade analytics on all platform events for monitoring and reporting through the CheckVax™ secure cloud-based portal. Send targeted push notifications and SMS alerts to specific groups of users based on time, behaviour or location.
Custom Screening Questionnaires
Create and send custom health screening questionnaires to different user categories. You can automatically deactivate Health Passes when users fail to complete or pass a screening questionnaire, and trigger a request for an updated negative test result submission.