Personalized Receipt Marketing

Turn your existing receipt printers into a personalized marketing tool.
Make the most out of your paper receipts with Fobi's Personalized Receipt Marketing. Automatically add targeted coupons, messaging, surveys, and more to your customer's receipts based on selected keywords, time of day, location, their basket content, basket size, and shopping behavior. Choose between creating your own coupons or providing access to your brands to promote their CPG coupons.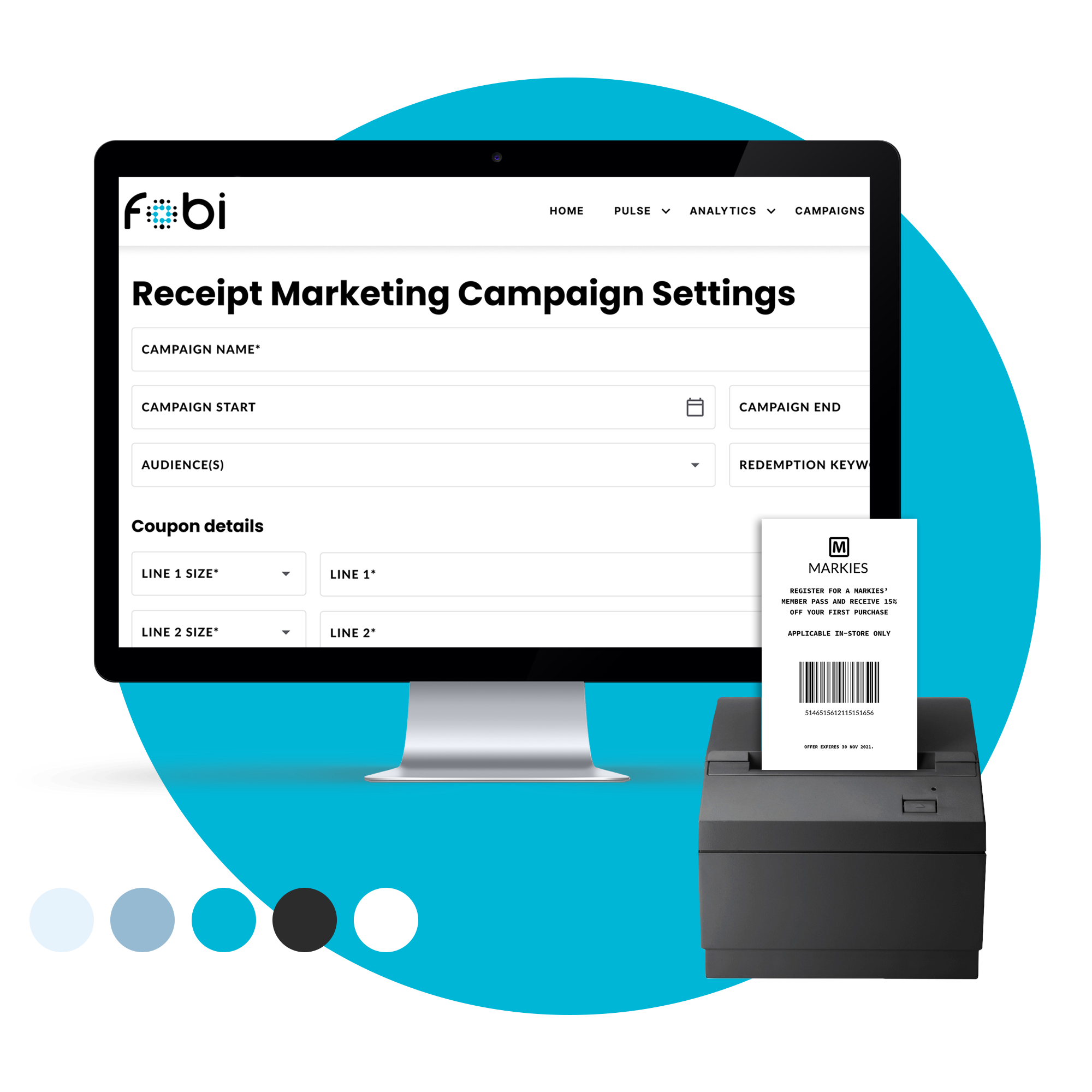 Empower CPG Brands
Provide CPG brands direct access to engage consumers with CPG-funded receipt promotions. Utilize Fobi's Personalized Receipt Marketing as a new revenue stream and increase foot traffic by providing engagement directly from your suppliers.
Avoid Surplus Inventory
Adjust your receipt promotions in the moment to ensure that you don't sit on inventory. In real-time, create and run campaigns that promote expiring inventory.
Monetize Every Part of the Shopping Experience
Fobi lets you make the most out of your paper receipts by transforming them from a basic itemized list into a customer engagement tool, such as redeemable offers, messaging, loyalty program onboarding, and more.
Dynamic Offers
Tailor promotions and messaging based on what shoppers buy, how much they buy, and when they're buying. Fobi's included Portal provides a deeper understanding of your shoppers so you can build promotions personalized to them.
Leverage Real-Time Analytics
By leveraging real-time analytics from Fobi's Insight Portal, you know precisely who your shoppers are so you can tailor promotions that really work. Fobi's Portal is your automated window into demographics, inventory, customer spend, basket composition, and other data that enables you to maximize your receipt marketing. Configure your promotions in the Portal to deliver offers that will keep your shoppers coming back for more.
Integrate with the Latest Coupon Standards
Retailers and CPG brands can integrate the new 8112 digital coupon format into their personalized receipt marketing campaigns to deliver universal, single-use coupons.
Save Money While You Make Money
Without the need for costly integrations to upgrade your existing infrastructure, Fobi seamlessly integrates with your existing POS and receipt printer to deliver personalized receipt marketing.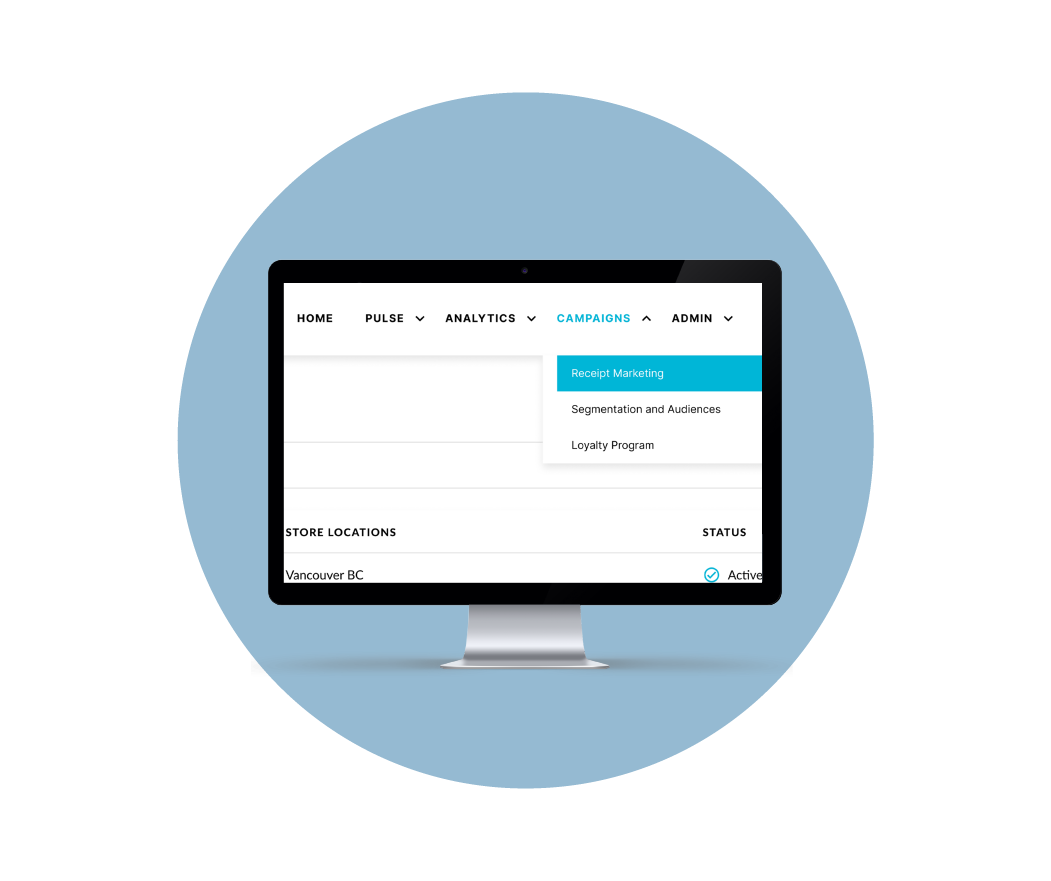 STEP 1 - LOGIN
Log in to your Portal and select Receipt Marketing from the dropdown menu to begin.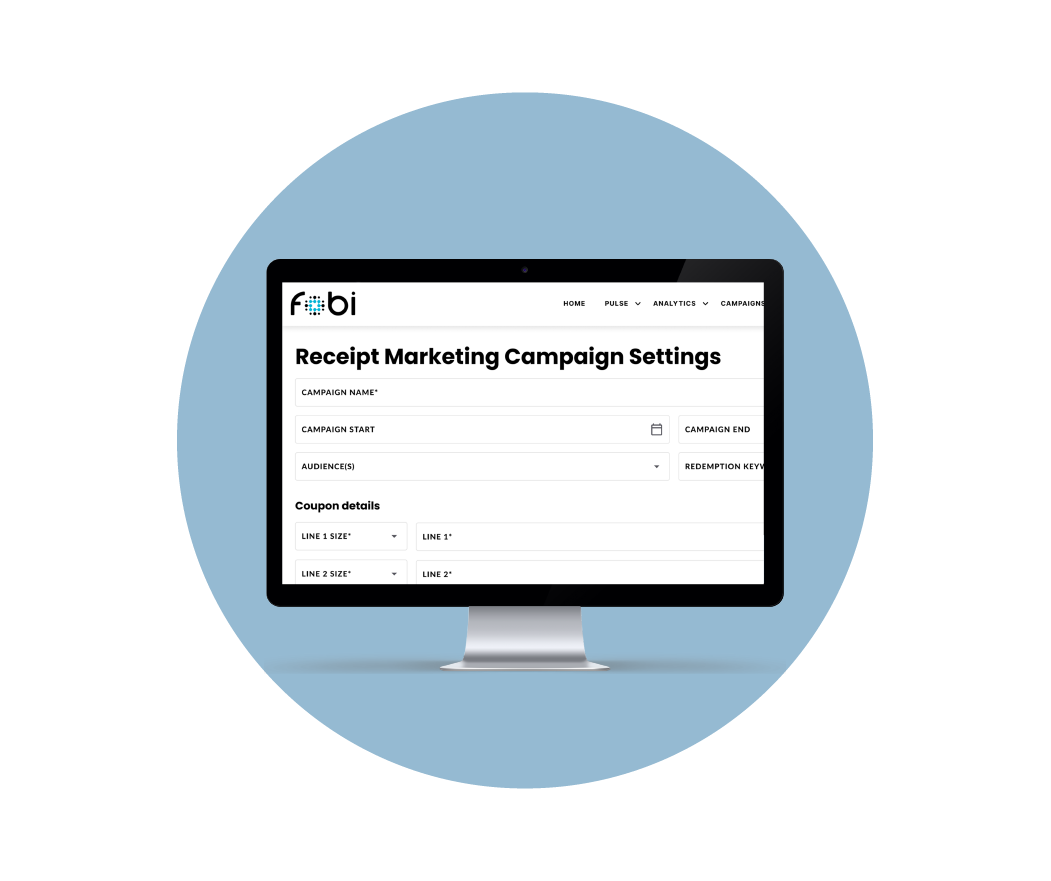 STEP 2 - BUILD
Enter the details for your personal or CPG-funded campaign (coupon info, imagery, messaging, HTML link, etc.).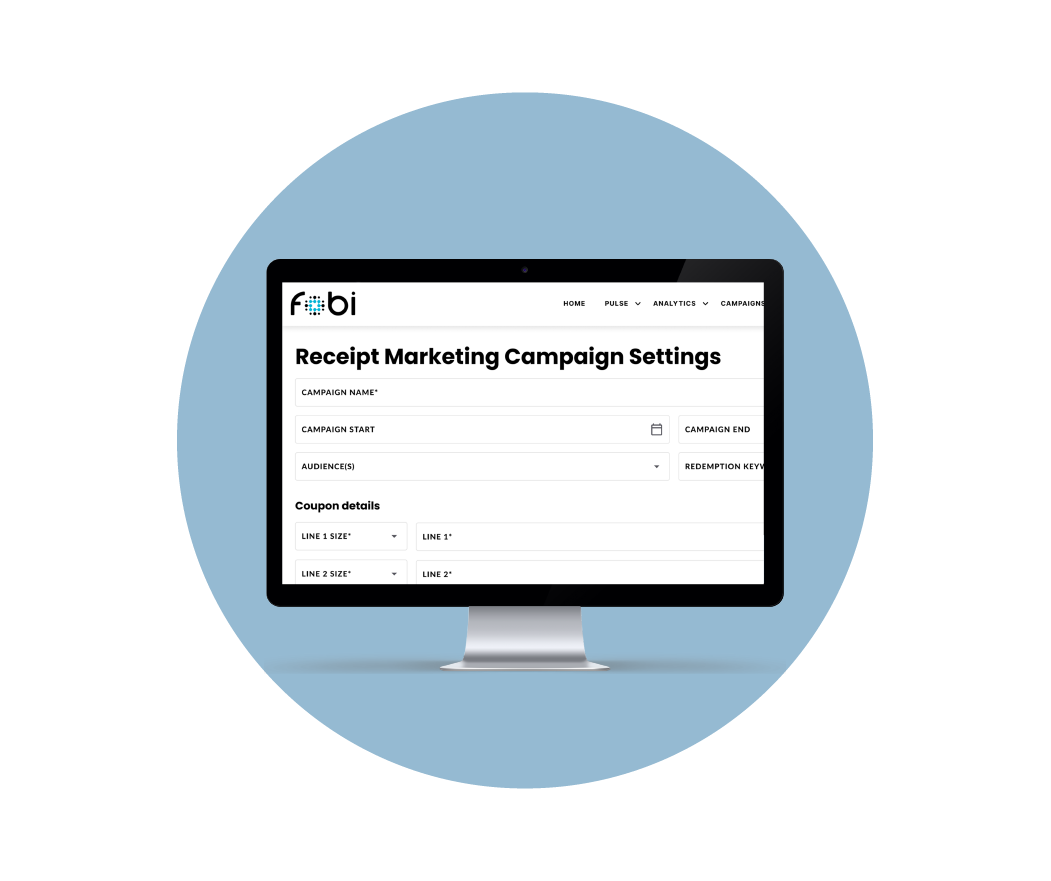 STEP 3 - TARGET
Choose specific locations and tills to print your campaign and set up triggers (keywords, basket size, etc.).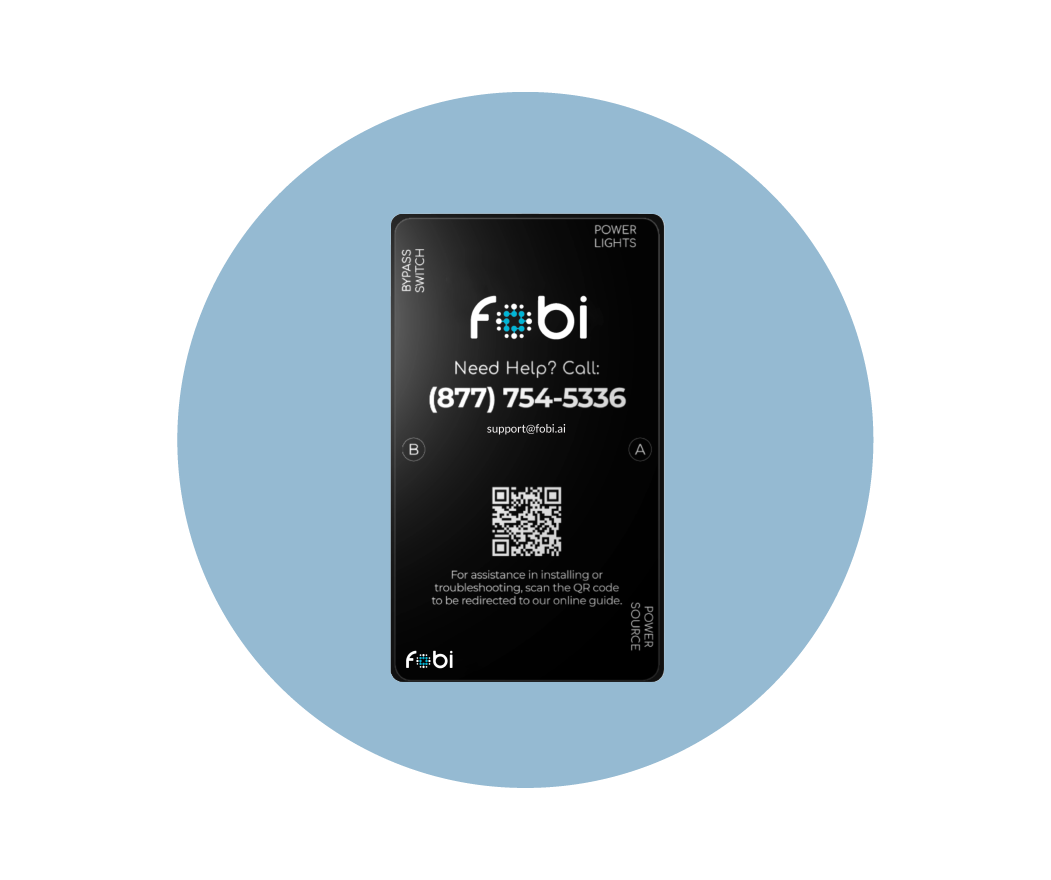 STEP 4 - AUTOMATE
With the Fobi device set up at each register, watch as it will automatically take care of the rest for you.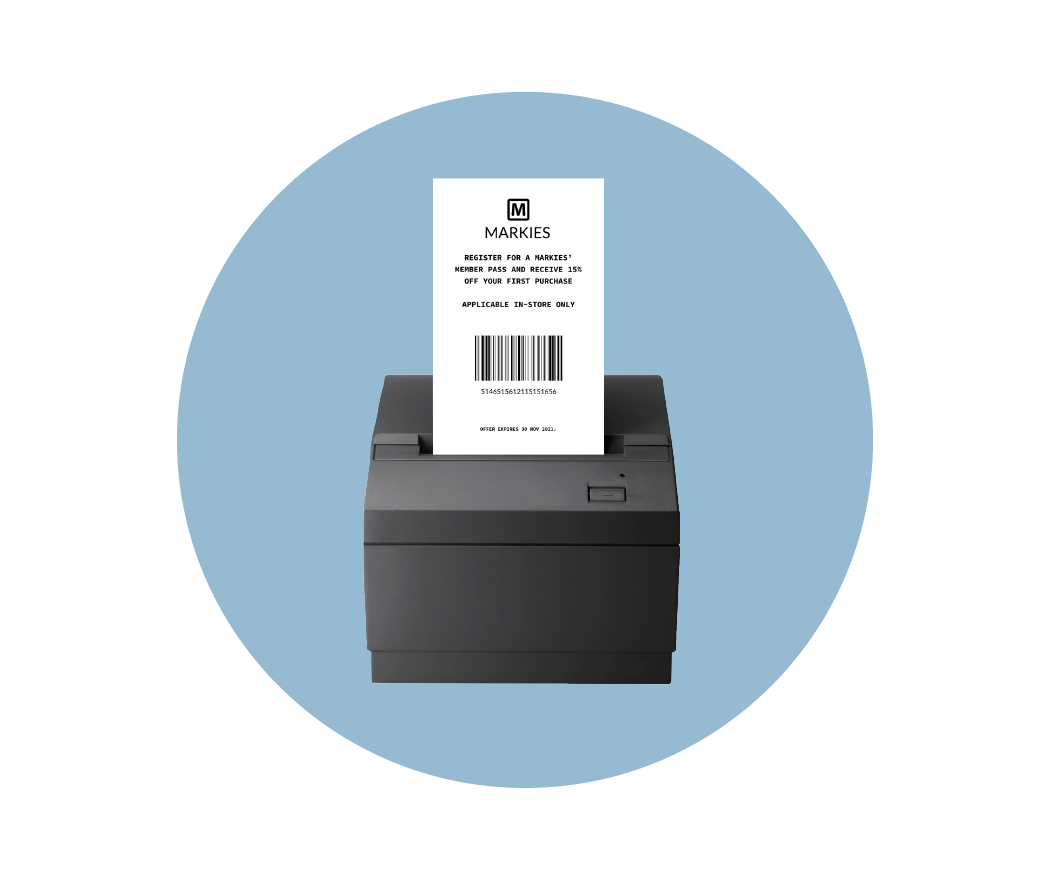 STEP 5 - DELIVER
At check-out, shoppers' buying behavior will trigger the personalized campaign and receipt with a code.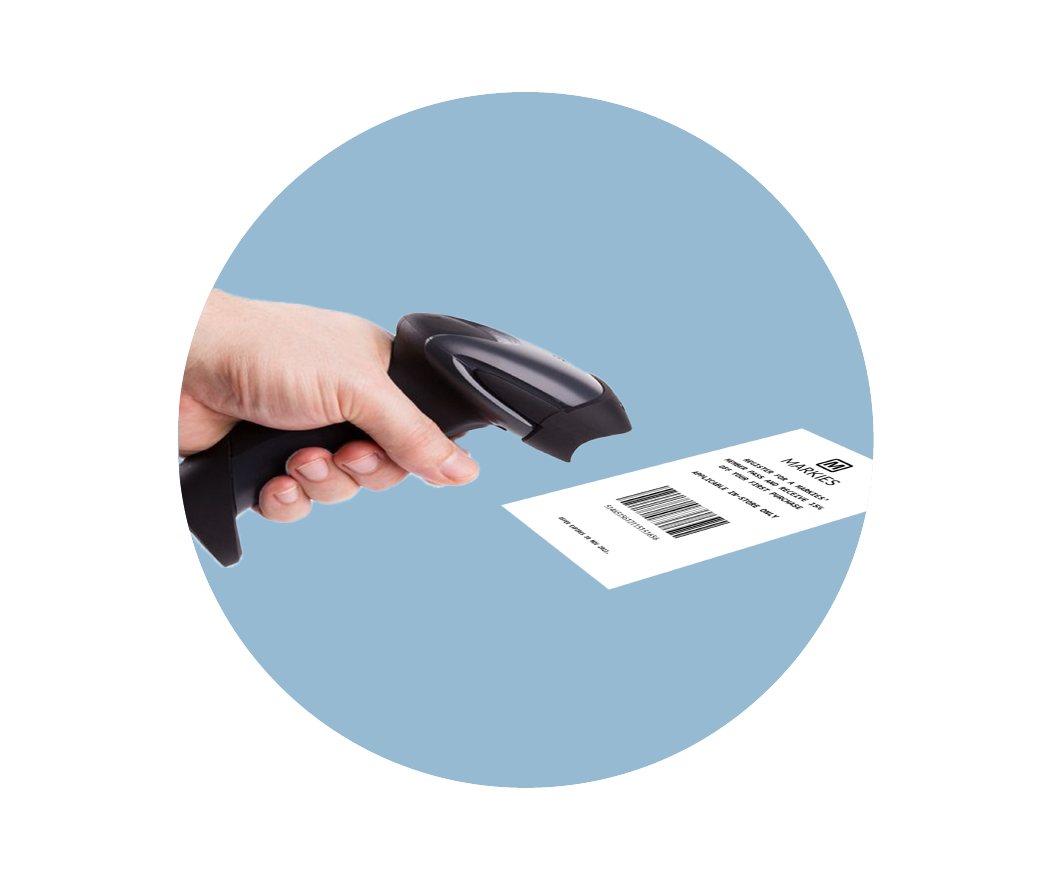 STEP 6 - ENGAGE
By scanning the code, shoppers can redeem coupons by bringing their promo back, sign up to your loyalty program, fill our surveys, and more!
LEARN MORE ABOUT PERSONALIZED RECEIPT MARKETING
Download the Fact Sheet
Learn more about how you can turn your existing receipt printers into a personalized marketing tool.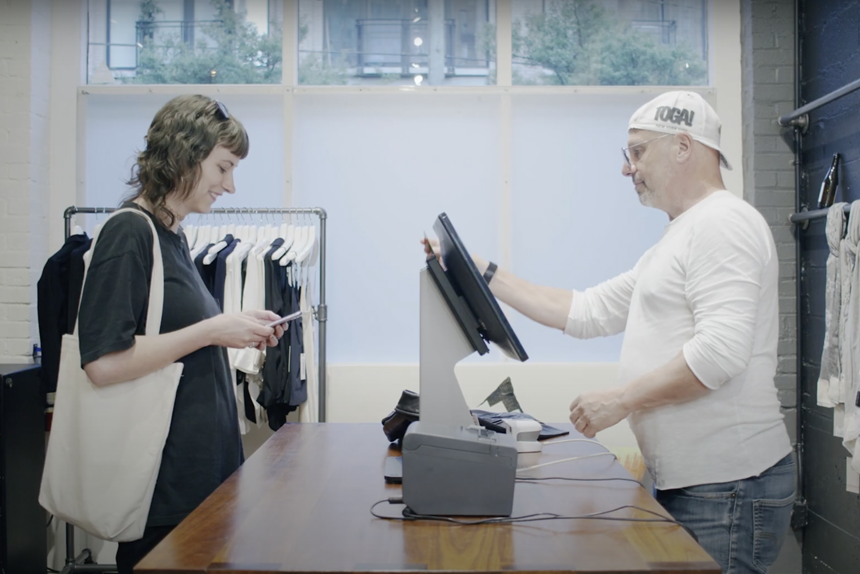 Leverage a 360-degree customer view from Fobi's Insight Portal by adding personalized receipt marketing campaigns. Increase customer lifetime value with the power of personalization to ramp up customer spend. Deliver promotions to every customer right at the till with physical receipt promotions based on shopping behavior.
Standard
$55.00/Month per POS Terminal
The complete package with everything your business needs to execute effective personalized receipt marketing campaigns.
---
1 Fobi IoT Device
Fobi's Insight Portal
Receipt Marketing campaign builder
24/7 online support