SUCCESS STORY
Sunflora, United States
Su
nflora is a global health and wellness retailer in the United States and the exclusive home of award-winning, hemp-derived SunMed products.
With more than 550+ stores in 41 states, Sunflora brings the highest quality health and wellness experience to customers nationwide.
"There's no greater time to utilize top-tier artificial intelligence technology to gain an edge in this industry. Our customer base is huge, and it's important to understand their needs and preferences to maximize basket size, loyalty and wallet share. We look forward to working with Fobi and building unparalleled experiences for our customers."
Jay Benge, Sunflora President of Franchise Systems.
Sunflora has been growing quickly through franchising with over 200 new locations in 2 years. They had little insight into the operations and data from each store and no way to connect to real-time POS data. With data access limited to shipping information and a 30 day delay, they struggled to adapt quickly to changes in consumer shopping and challenges faced in different locations. Sunflora wanted to gain big picture data and unify their insights throughout every franchise locations.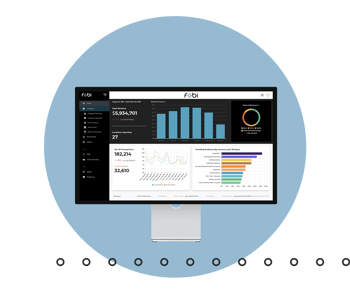 Fobi provided Sunflora with a unified insights platform that allows them to collect and connect customer data from their franchise locations in one place. Through a complete API integration with their point of sale, Vend, Fobi was able to bring each store up-to-date without any hardware investment.
Multi Domain Reporting
Consolidate results from different Vend accounts, countries, and business units into a unified view.
Franchise Compliance
View, manage and edit products, pricing, and discounts from Fobi and cascade updates to associated Vend accounts.
Reporting Access
Vend's user permissions have the flexibility to cater to your in-store operations, Fobi extends that flexibility with a tool built for management and head office operations.
Historical Performance & 3rd Party Data
Upload and sync your historical data from previous POS systems. Integrate a range of 3rd party data, such as weather, traffic, stock levels, and more.
With Fobi, Sunflora can now:
See franchise performance and profitability by location & franchisor

View the full customer journey and measure customer lifetime value

Understand customer needs to maximize basket size and loyalty

Gain a clear understanding of each customer to match purchases