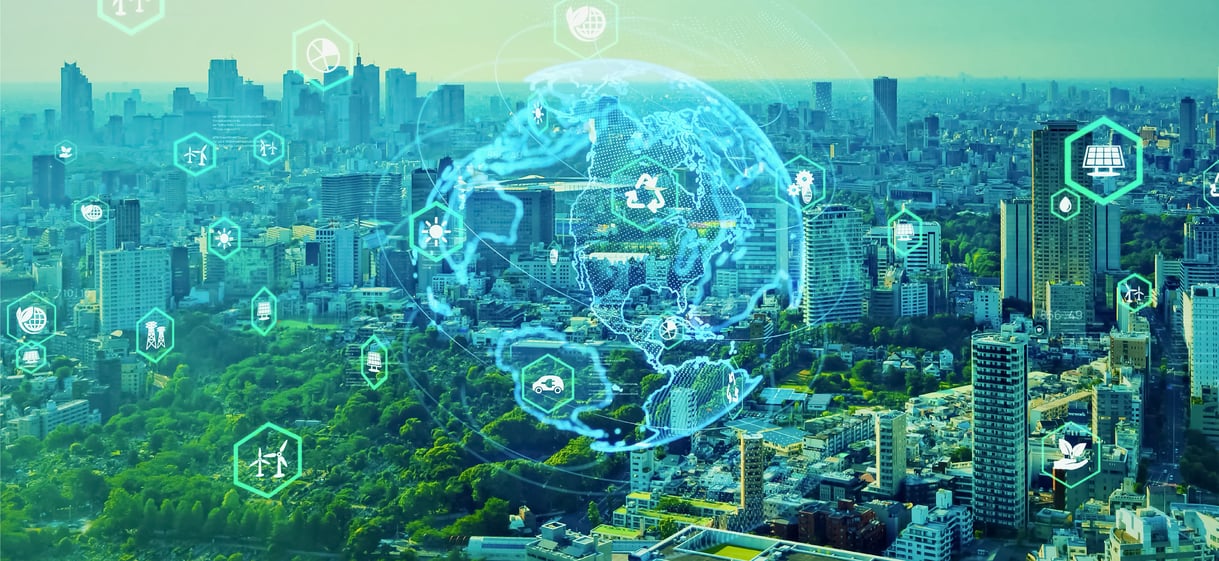 In today's digital age, innovative solutions and platforms are revolutionizing the way we live, work, and interact with one another. As we commemorate World Environment Day, it's important to recognize the role technology has played, and continues to play, in driving environmental sustainability for individuals and businesses everywhere. One digital solution that's inherently paving the way for a greener future is mobile wallets and wallet passes.
These digital alternatives are empowering businesses worldwide to reduce their carbon footprint—and subsequently increase their cost savings—by minimizing paper and plastic waste at scale. By eliminating the need for paper tickets, documents, plastic cards, and other physical credentials, mobile wallet passes are helping drive a significant shift toward a greener and more environmentally-friendly future for us all.
Digital Sustainability in the Palm of Your Hand
Wallet passes offer a range of benefits that contribute to a more sustainable lifestyle, all while enhancing convenience, efficiency, and security for businesses and their customers alike. Here are some primary examples:
1. Eliminating Paper & Plastic Waste At Scale
Traditional paper tickets, plastic cards, and printed documents contribute to a staggering amount of waste each year. Wallet pass solutions offer an eco-friendly alternative that eliminates the need for these physical materials that are not only costly to produce and distribute but are also cumbersome to carry and easy to lose for many customers. According to a study by the National Resources Defense Council, over 21 billion paper tickets are used globally each year for the events industry alone. Similarly, nearly 90% of business cards are thrown away within the first week they're received, which adds up to over seven million trees that could be saved annually if everyone switched from paper to digital business cards.
Ultimately, by leveraging digital wallet passes, businesses can reduce their reliance on paper and plastic and minimize their impact on deforestation, water consumption, and pollution to create a tangible, positive impact on our planet.
2. Reduced Energy Consumption
The shift from physical cards and documents to digital wallet passes has a significant positive impact on energy consumption. The production and distribution processes associated with traditional paper and plastic credentials require substantial energy resources. But wallet passes, on the other hand, leverage existing mobile technologies and platforms that require minimal additional energy consumption for their use. A study conducted by the Environmental Paper Network found that the digital alternative to paper tickets and documents can save up to 50,000 gallons of water and 5,000 pounds of carbon dioxide emissions for every million electronic transactions.
3. Enhanced Operational Efficiency
The adoption of wallet pass solutions streamlines operations and enhances efficiency for businesses. Digital wallet passes eliminate the need for manual verification, paper-based documentation, and physical card processing, saving significant time and resources for businesses to allocate elsewhere. With instant updates and real-time information, businesses can effortlessly communicate with their customers directly through the mobile wallet with two-way mobile lock screen communication. This agility not only reduces the need for paper and plastic but also improves customer experiences and fosters lasting brand loyalty. According to Juniper Research, the use of digital loyalty cards is expected to save businesses $1.6 billion by the end of 2023 while also reducing the amount of plastic waste generated overall.
4. Versatility for Every Need
Wallet passes cater to a diverse range of industries, including conferences and events, retail and consumer packaged goods (CPG), hospitality and tourism, sports and entertainment, investor relations, insurance, transportation, and much more. The versatility of the mobile wallet enables businesses from various sectors to adopt eco-friendly practices tailored to their unique needs. Whether it's digital loyalty and membership cards, event tickets, digital coupons, or secure digital credentials, wallet pass technology providers like Fobi offer a comprehensive suite of solutions that can help businesses minimize their environmental impact while delivering seamless, personalized experiences to their customers.
Eco-Friendly Wallet Passes for Businesses of All Sizes
There's no denying that wallet pass solutions are at the forefront of today's digital sustainability movement. By actively eliminating paper and plastic, wallet passes offer businesses an opportunity to enhance their operational efficiency and productivity today while contributing to the conservation of resources and the preservation of our planet for the future of tomorrow.
Through its flagship wallet pass technology, Fobi AI has helped lead the charge in reducing businesses' carbon footprints and redefining customer engagement across a multitude of industries. Designed with ease of use, convenience, and ESG in mind, Fobi's wallet passes enable businesses of all sizes to deliver personalized digital experiences directly through the mobile wallet. From membership cards and digital tickets to e-gift cards and digital IDs, the platform's user-friendly features include seamless connectivity, easy customization, real-time communication, and detailed segmentation capabilities that drive customer engagement, attribution, and lifetime value.
Businesses can effortlessly tailor their wallet passes to align with their brand identity, update information in real-time, and seamlessly integrate with popular digital wallet platforms like Apple Wallet, Google Pay, PassWallet, and more. This level of customization and flexibility not only enhances the user experience but also eliminates the wasteful production and distribution processes associated with traditional physical cards and paper-based documentation. So when it comes to the future of customer engagement, say goodbye to cluttered wallets and welcome a seamless, digital, and sustainable approach to managing credentials and documents.
Want to learn how your business can drive increased cost savings and meet your ESG goals with environmentally friendly alternatives to plastic and paper cards? Visit the Fobi website or contact us today to explore our range of wallet pass solutions and discover how your business can help build a brighter, more eco-friendly future.