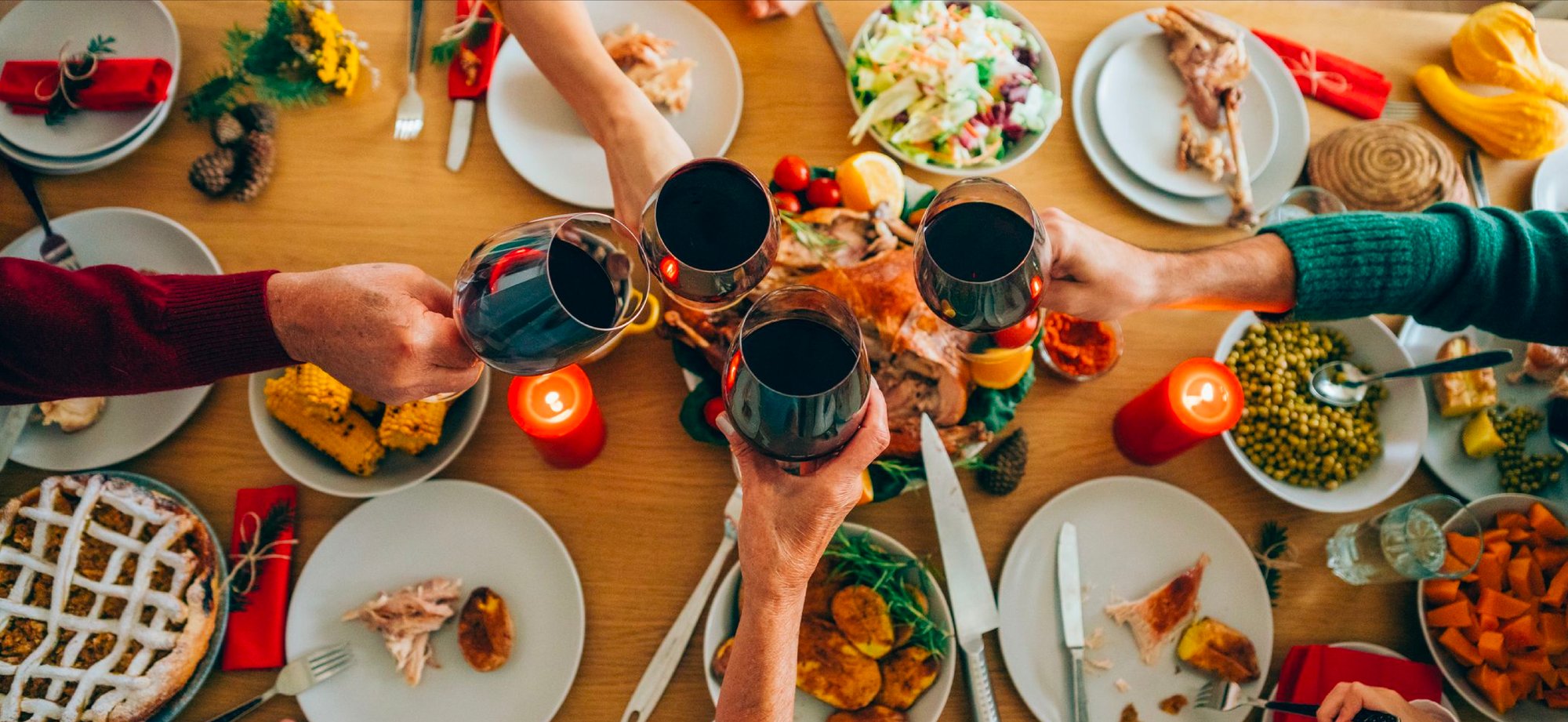 We collected real-time data from private liquor stores across Canada, providing insights into what's in high demand during this year's fall season.
As the leaves change colour and the fall season sets in, we savour the chance to slow down, reflect, and enjoy the traditions this season brings. This is the time we gather with loved ones, give thanks, and indulge in mouthwatering meals. It's a season dedicated to pumpkin pies and roasted turkeys, but it's also a time when liquor preferences make quite the shift.

With exclusive, real-time data from hundreds of liquor stores across Canada, the Fobi Insights Portal provides retailers with a greater understanding of how changing seasons impact the world of beverage alcohol. By uncovering direct consumer data, you can improve your fall planning and purchasing strategies, making the most of these evolving sales trends.
Take a look at our key takeaways from this year's transition into fall:


1. As temperatures drop, the red wines come out.

It's time we wave goodbye to the lively appeal of white, sparkling, and rosé wines, and welcome in the rich flavours of red wines. This shift in the wine landscape is evident in the numbers: increasing +10% in market share over September and October, red wines have secured a 46% share of the wine market—a turn of events from when white wines held the top spot throughout the heat of the summer.

Here are some of the standout red wines seeing the most sales growth this fall: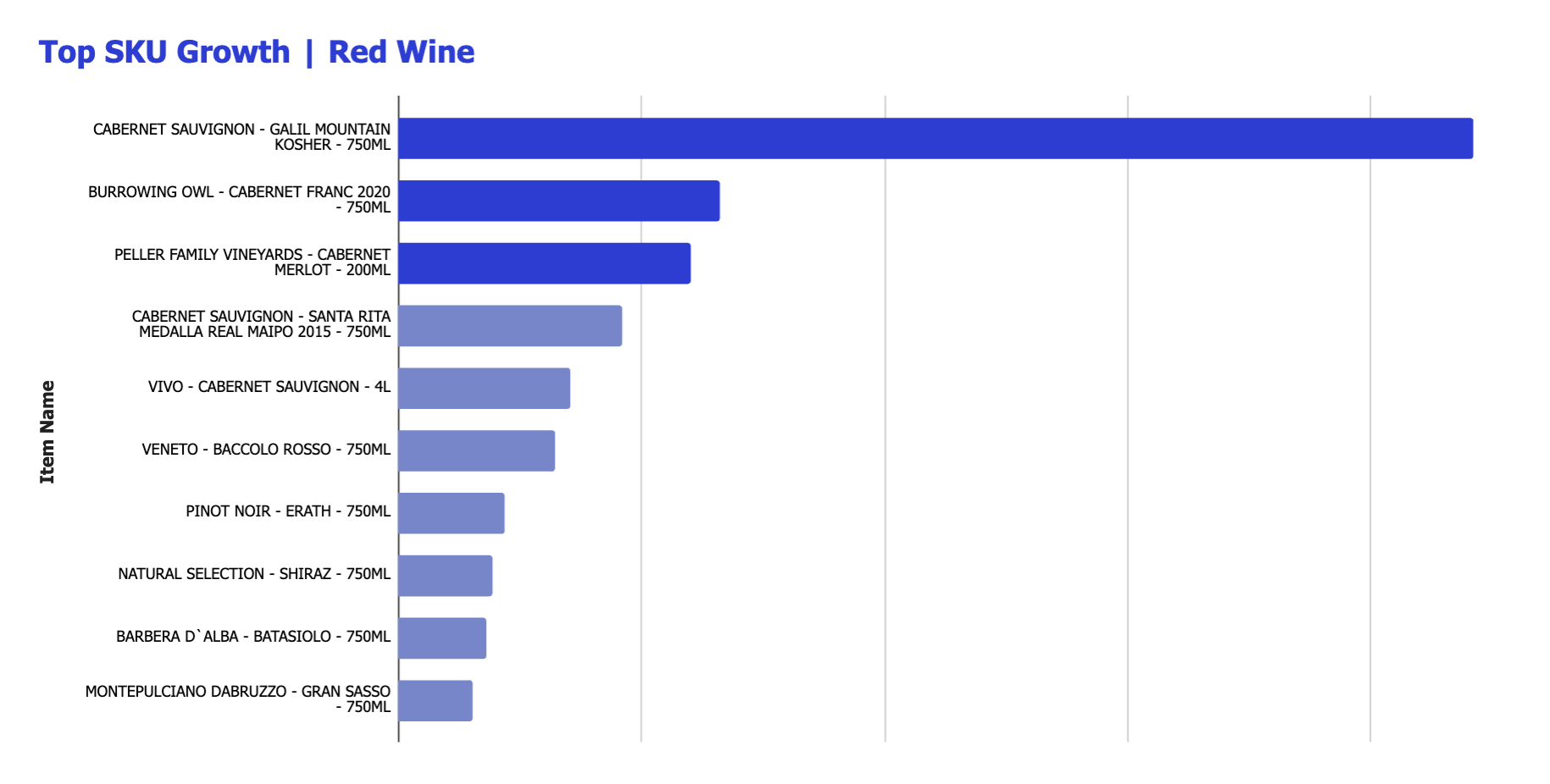 Looking for the perfect liquor pairing? Look no further—our data shows that consumers are most likely to add ready-to-drink (RTD) beverages to their baskets when shopping for red wine, followed by four categories of brews: macro, micro, import, and regional beer.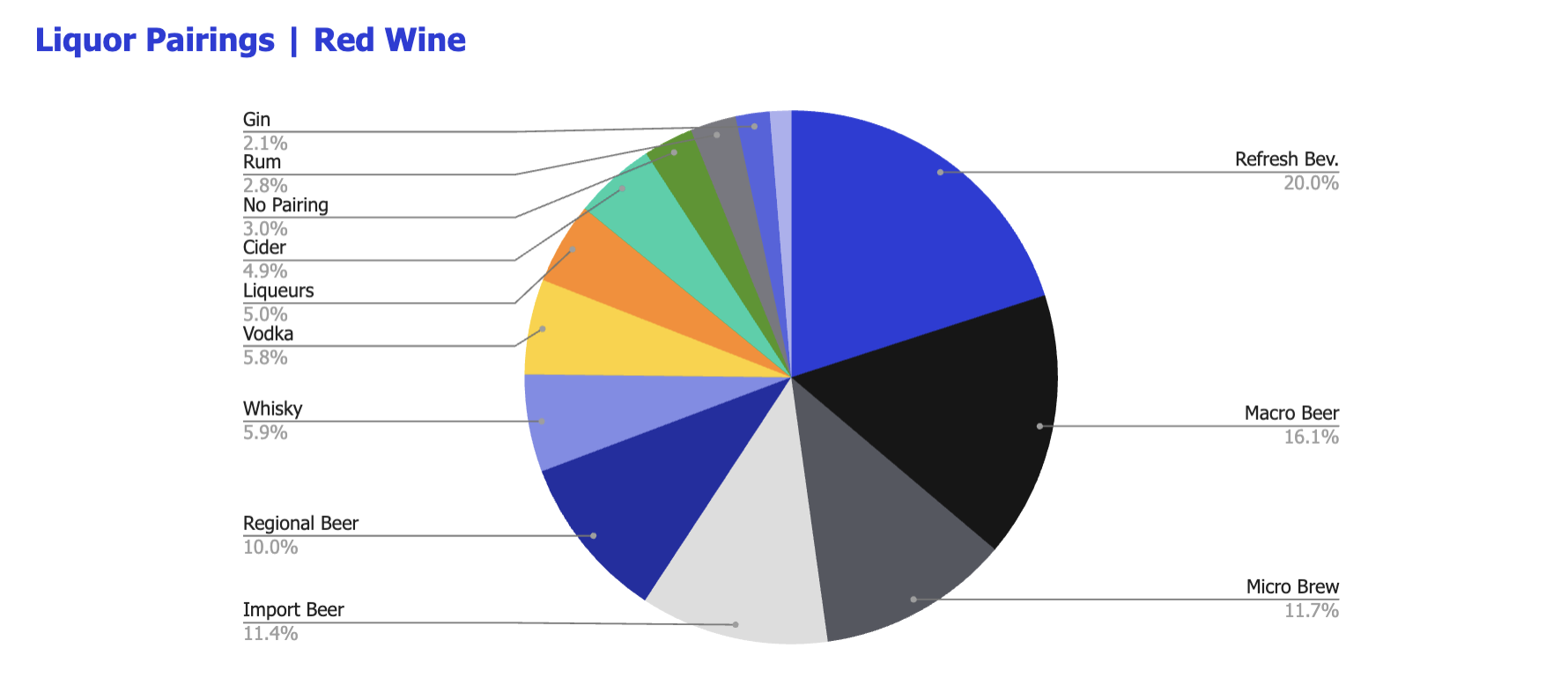 2. Few can resist the cost-effectiveness and convenience of 4L boxed wine.

As a reflection of the current economy, we know consumers are trying to spend accordingly, especially when it comes to hosting or attending large gatherings. As families and friends come together for Thanksgiving, it's hard to find fault with the economical and user-friendly nature of 4-litre boxed wine.
With boxed wine, you don't have to worry about a wine opener—simply place your glass under the built-in dispenser and you'll be sipping your full glass of wine within seconds. So for your next gathering, consider the volume, value, and convenience that boxed wine offers, and join the growing community of boxed wine lovers and their favourite brands: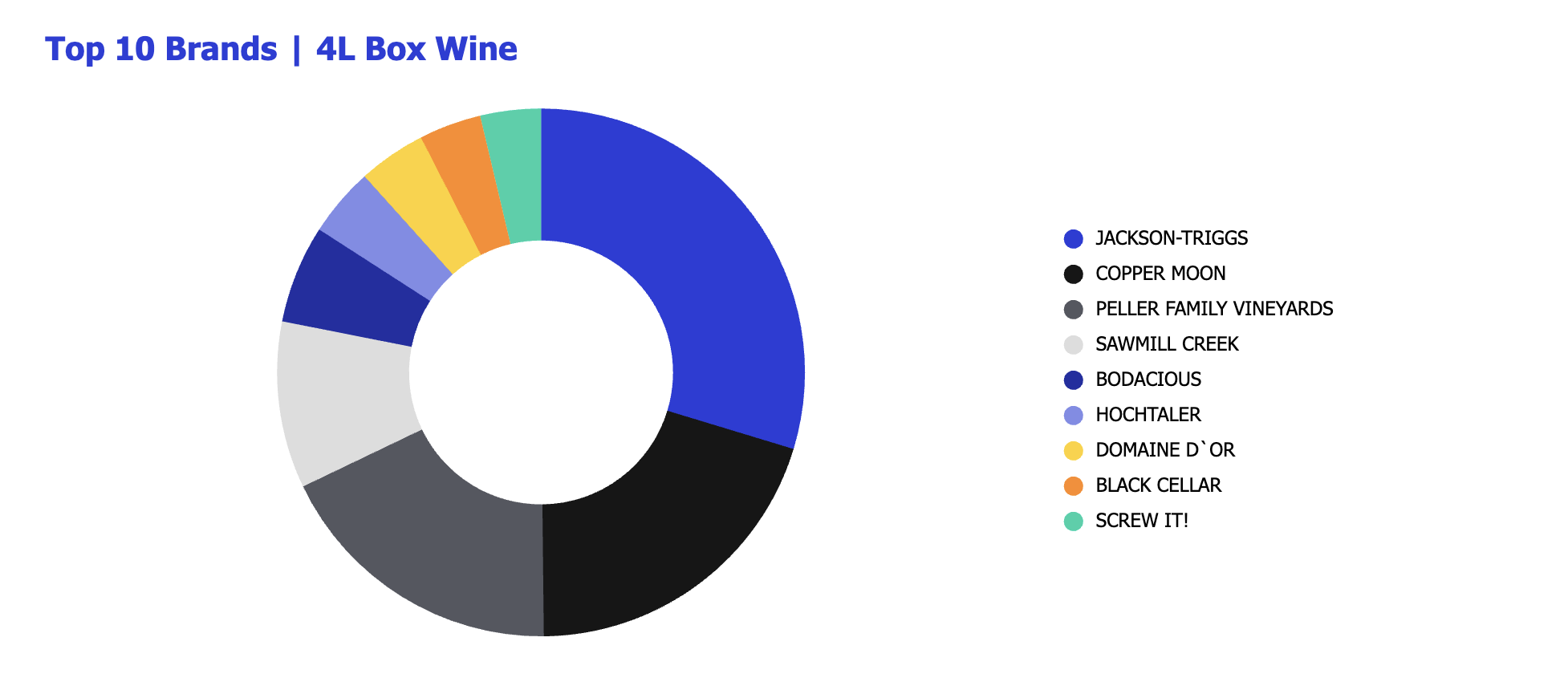 When it comes to these 4L boxes, Jackson-Triggs takes the lead as the top performer with their Cabernet Sauvignon, and again in second place with their box of Sauvignon Blanc. Between both red and white wine categories, Jackson-Triggs is evidently driving the allure of this season's most popular box wines.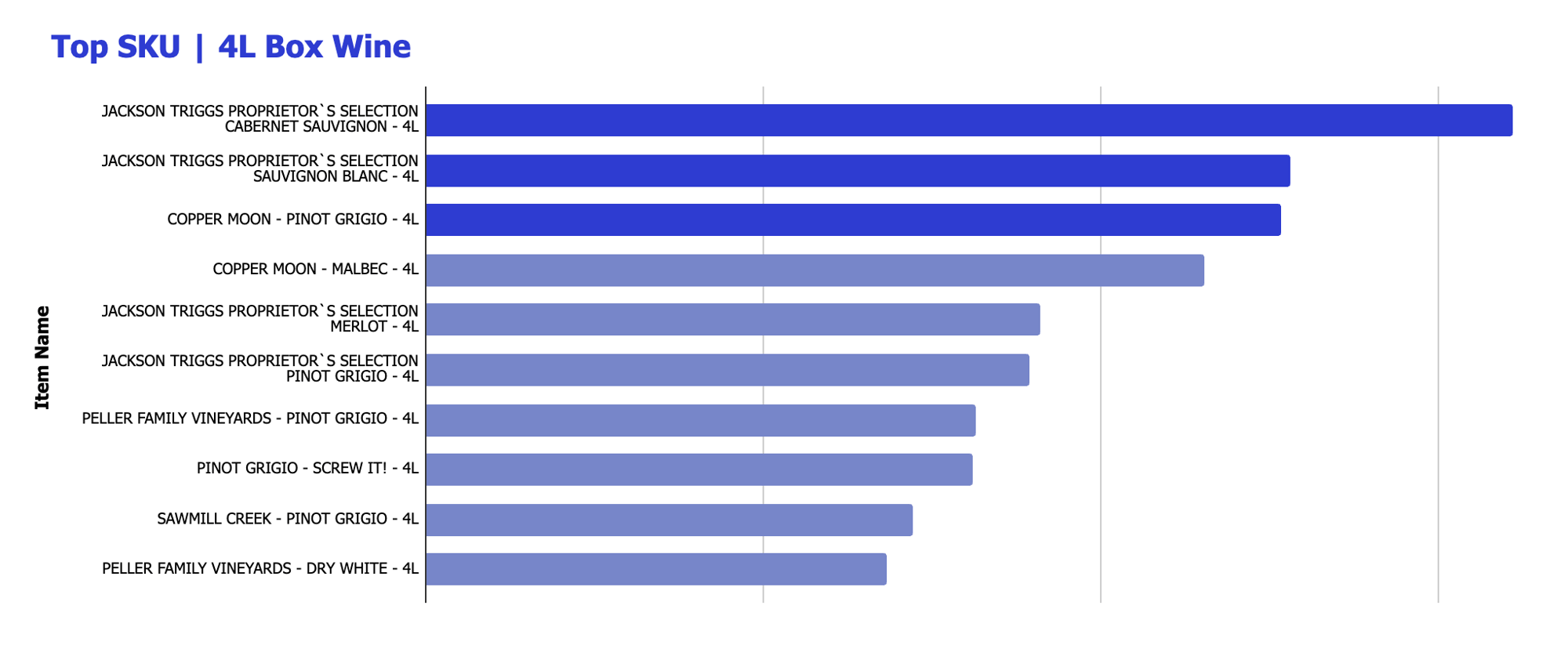 3. Competition is quickly rising in the winery space.
For wine lovers, Jackson-Triggs is a timeless classic, producing a significant range of exceptional wines that have consistently met the needs of modern consumers. However, this fall, the competition is fighting hard to catch up. While the tried-and-true winery still came out on top, Copper Moon and Pellar Family Vineyards have also seen impressive revenue growth over the last two months, increasing sales by 16.6% and 16.9%, respectively.

On average, Copper Moon and Pellar Family Vineyards typically offer lower retail prices for their 4L box wines, potentially influencing spending habits as consumers look to prioritize cost-efficiency and seek greater value for their money.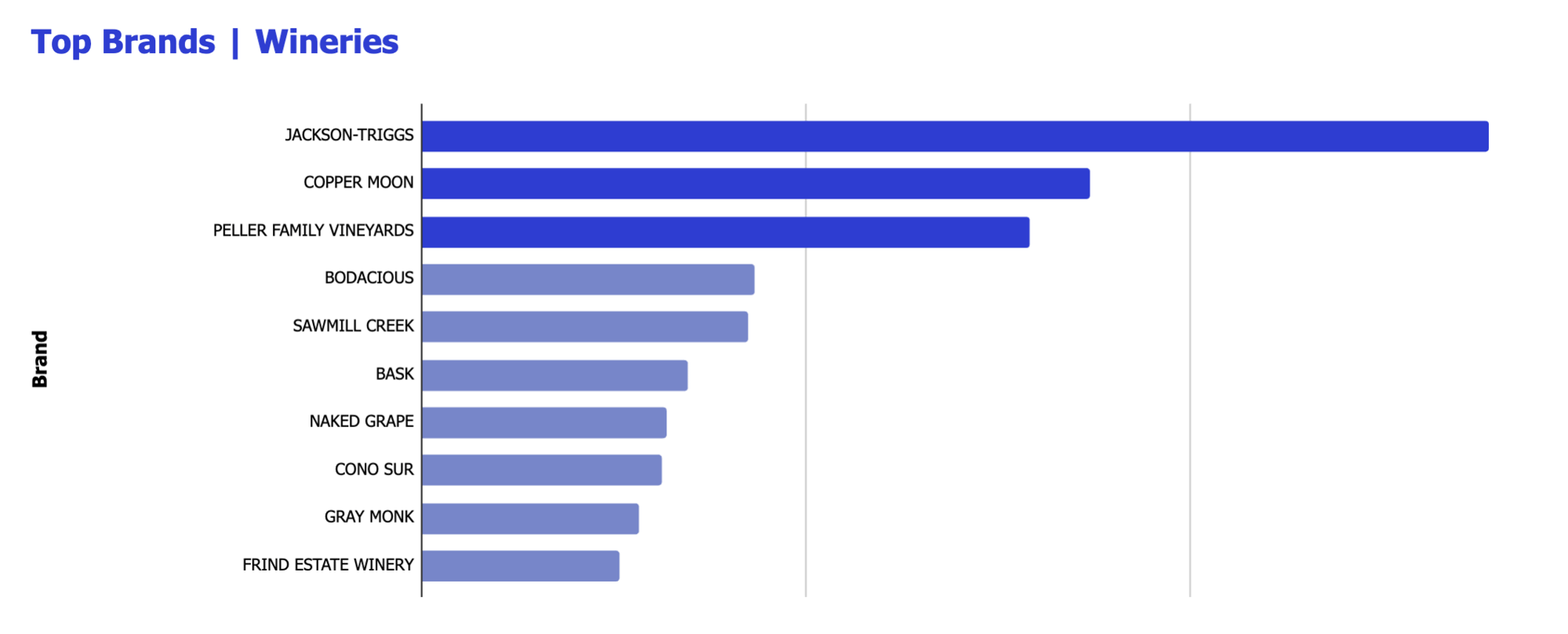 This season's top wineries (so far) don't come as a surprise, given that four out of the top five wineries are repeat champions from last year's holiday celebrations. Clearly, these wineries have perfected the winning formula when it comes to creating memorable moments during the chilly months, and it seems they're here to stay.
4. Buying cocktails is so last season. Mix your own in DIY fashion!
Throughout the summer, we watched RTD beverage sales skyrocket as people spent most of their time outdoors for beach trips, patio lunches, and sun-filled adventures. But with fall upon us, there's been an interesting shift in consumer behaviour beyond tastes in wine: people are transitioning from buying canned cocktails to mixing their own. While it's common for the RTD category to slow down after the summer, it looks like consumers still can't get enough of them—so they're making their own and saving some money as they do.

With the growing popularity of homemade cocktails, our data shows that Vodka now leads the way in the Spirits category, up nearly +6%, driven by brands like Alberta Pure, Polar Ice, and White Lightning. After a summer of pricey RTDs, the transition to fall has clearly encouraged consumers to save money, turn to more cost-effective alternatives over premium vodka brands, and take on the role of a home bartender!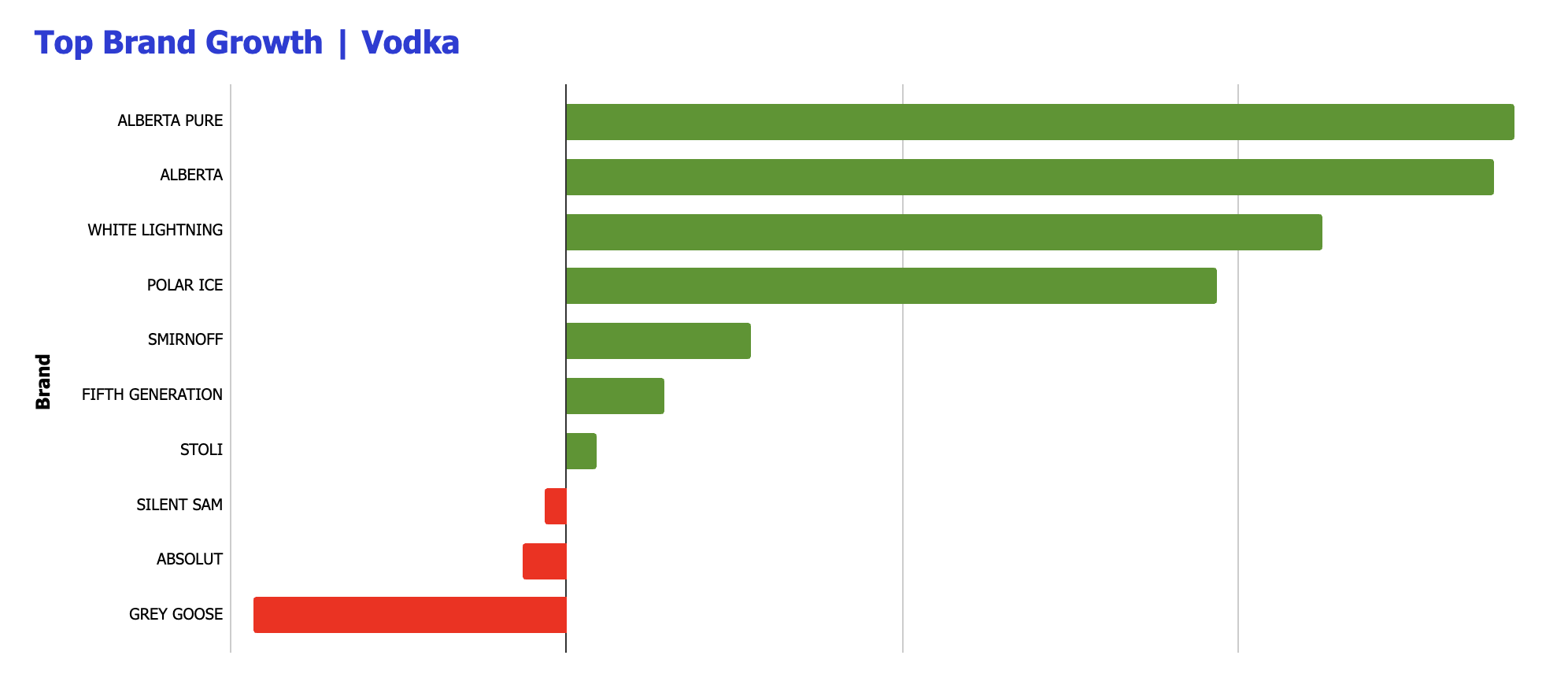 5. Investing in large quantities vs. pocket-friendly picks.
Throughout our fall liquor analysis, there is a common theme: consumers are either spending big for better deals or buying small because that's all they've got in their pocket. This became clear as Alberta Pure experienced a +70% increase in sales of its smallest 375mL bottle and impressive growth in its brand market share at +48% (an increase of 30%).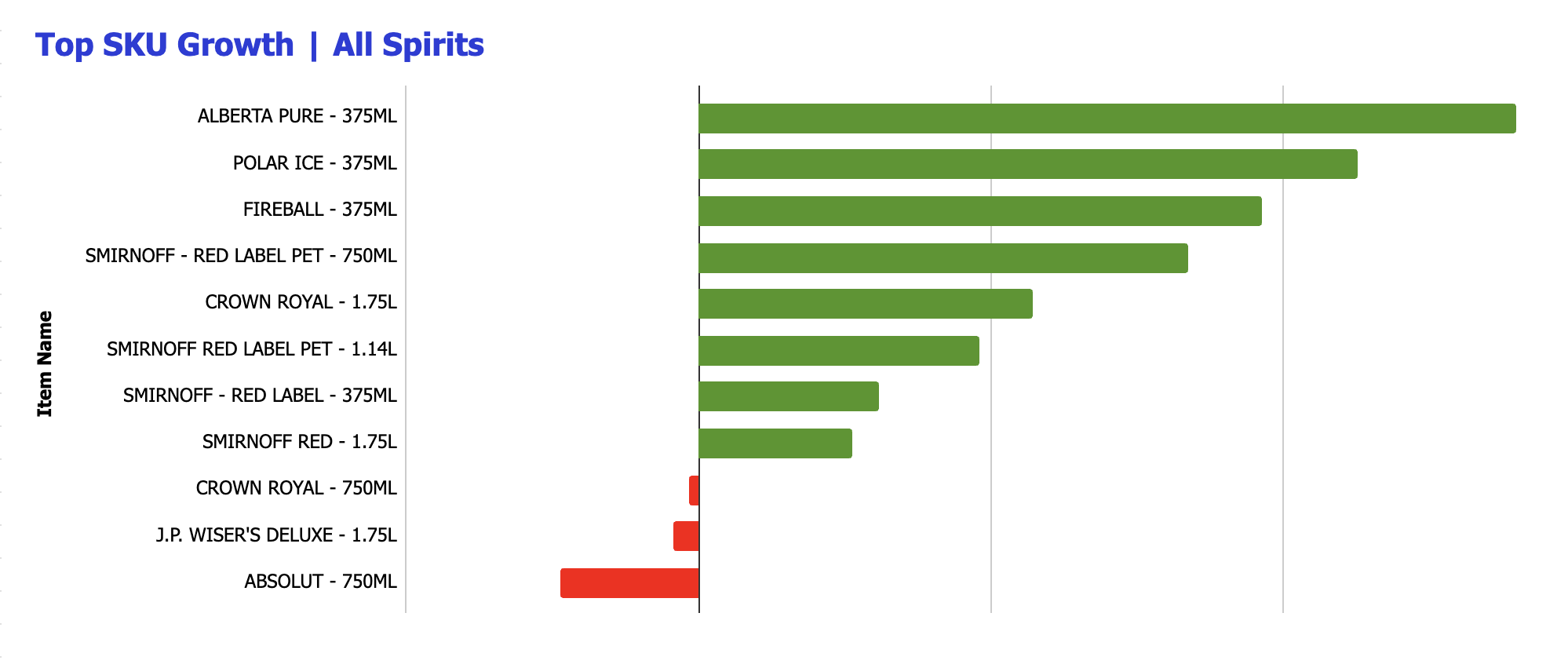 On the opposite side of the spectrum, Crown Royal's 1.75L bottle has dominated in revenue generation, of all spirits, since the beginning of September.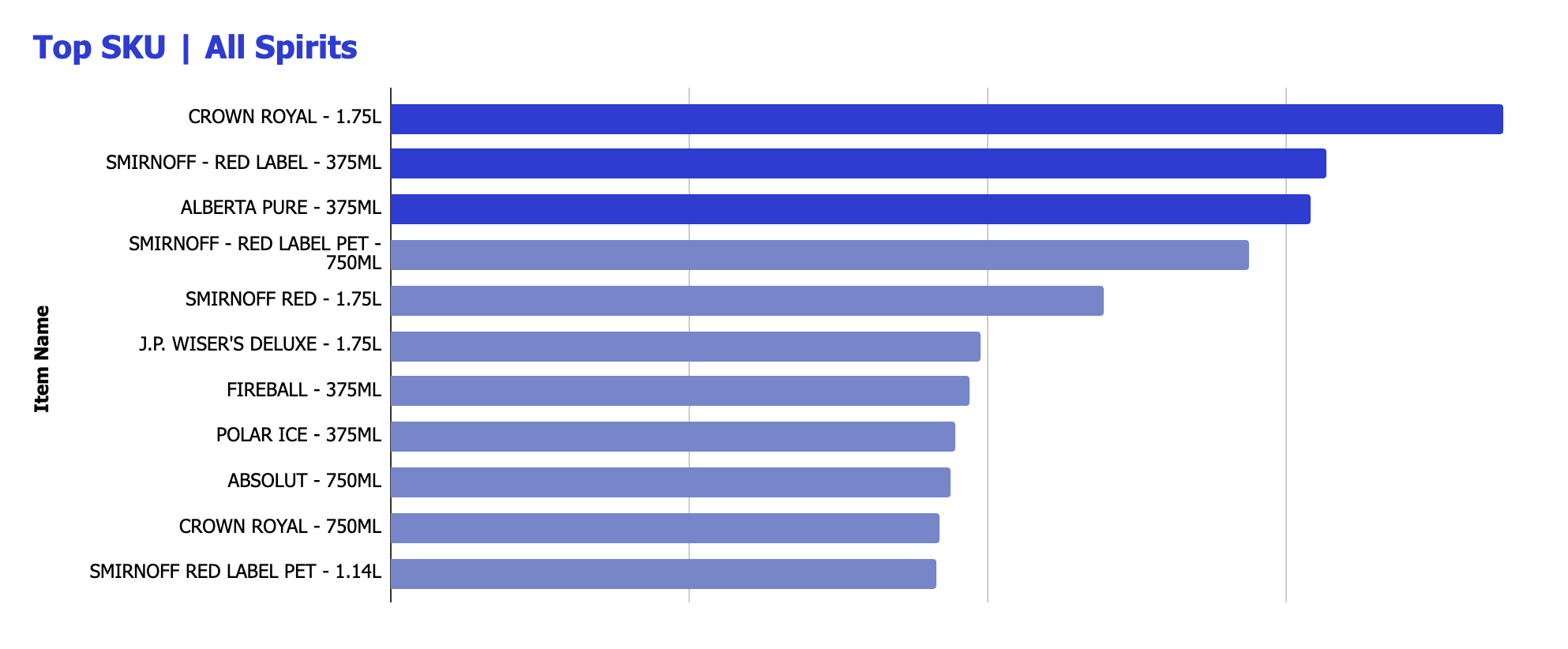 Harvesting Data this Fall
With the days growing colder, we now have the perfect excuse to gather with loved ones and enjoy 4-litre boxes of wine or create our own cocktail concoctions. Reflecting back on this summer's liquor sales trends, it looks like the season of splurging on canned cocktails has led consumers to now seek out more budget-friendly alternatives. As consumers reconsider their spending habits, the temptation of more cost-effective options, such as 4L boxes of wine and DIY drink mixing, has captured tons of attention, and rightfully so.

Through Fobi's Insights Portal, we provide breweries, wineries, and private retail liquor stores with the capabilities to amplify their competitive edge, delivering real-time liquor data that ensures your inventory aligns seamlessly with seasonal trends and consumer preferences. Take the first step in elevating your liquor business by contacting us today at https://www.fobi.ai/contact for access to invaluable insights across beverage alcohol.