Before the internet became the behemoth that it is today, the extent to which retailers and brands could track consumer data was extremely limited. The minimal amount of information that was physically collected became useless in the way that businesses today use data to drive engagement, customer retention, and advertising efforts. However, with the acceleration of the digital world, data now transcends everything that we do—and that works out in the best way for retail stores and consumer packaged goods (CPG) brands alike.
Up until this point, there has been little reason for businesses to want to safeguard the third-party data they collected about their customers, but increasing demands for privacy have ultimately turned the use of third-party data into a cause for concern. Where brands like Google, Apple, and Android previously focused on using third-party data to better track and personalize their customer experience (CX), these same organizations are now flipping attribution on its head, making privacy, consent, and consumer preferences an overall commodity that's worth competing for (and one they must legally comply with).
But knowing where to collect your data is only half of the story. In order to meet your customers where they are, at the right time and at the right place, you will need to know how to leverage your best asset from start to finish. That's through a first-party data strategy.
Third-Party Cookies are Going Away, But Your Consumer Data Isn't
First-party data is data that is unique to your organization—making it yours and yours only. The importance of first-party data lies in the fact that this information is already available for use, more accurate than other sources, and highly relevant to both your business and consumers, having been collected directly from the people you have the most to learn from: your customers. When first-party data is used in the right way, your brand can build stronger, more trusted relationships, and fuel the data-driven decisions that are enhancing your targeting strategies and leading to more effective marketing campaigns overall.
The benefits of first-party data for CPG brands are profound. By using the insights you collect yourself (at no additional cost), your brand is able to better understand your customers' preferences, behaviours, and needs, which is invaluable information to gaining and maintaining a competitive advantage in the long-run. When your business can pinpoint specific trends and consumer purchasing patterns, your ability to innovate and develop new, targeted products soars. Not only this, but leveraging your data to anticipate demand for your goods and services also means that your supply chain and distribution processes will become more efficient, accurate, and optimized for waste reduction, ultimately steering your CPG brand to increased cost savings and profitability. In fact, a 2021 study from Google and Boston Consulting Group (BCG) reported that brands using first-party data for key marketing functions achieved a 1.5X increase in cost savings and nearly 3X revenue growth.
In comparison to third-party cookies, one of the most important attributes of first-party data is its ability to meet growing customer privacy needs. Since the data is collected directly from your customers in the ways that you decide, that makes it subject to your brand's own privacy policies and practices. As long as your policies are set in the best interest of your customers and their safety concerns, they are more than likely to deem your brand inherently more reliable and trusting than those of third-party data sources.
4 Steps to Get Ahead of Your Competitors
So, how can your retail store or brand get started? Tealium, a Customer Data Platform (CDP) that's driving next-gen consumer experiences through trusted and unified data, suggests four strategic steps to kickstart your first-party data strategy:
1. Connect your first and third-party data
While many organizations have already removed or begun to remove their third-party data processes, there are still many others who continue its use. 63% of advertisers, in particular, still consider third-party data as their preferred source of consumer information. So, if it was up to businesses, third-party data would never truly be obsolete, since—under the proper regulations and compliance—it still does what it was meant to do: reach customers at scale.
Transitioning your retailer or CPG brand to a first-party data strategy is not just a one and done thing. If you're still using third-party data, start by leveraging it as a complement to your existing first-party data to enable your company to better inform the decisions that are ultimately driving your bottom line.
2. Put compliance at the forefront
Regulatory practices and rules surrounding data privacy will only continue to evolve, but what may seem like a growing list of stringent policies your brand must follow (at the expense of the collection and use of your consumer data), can really be turned into a new value proposition.
Customer data platforms are just one example of how privacy features can be leveraged as a marketing tool on their own. CDPs aim to aggregate, unify, and streamline first-party data that's collected from user profiles across platforms, and in most cases, naturally meet the growing requirements of explicit consent and privacy permissions.
At the end of the day, your best bet at building lasting relationships with your most engaged customers is through their own preferences, and that includes privacy and security.
3. Align your strategy with your current or future tech stack
Streamlined customer experiences come from streamlined organizational processes, and that means ensuring your chosen data strategy fits into your evolving technology landscape (including CDPs). Your chosen tech stack will act as a foundation to how your company runs, what services you can both build and offer, and how efficiently you can get your products into the hands of your customers. Having a good understanding of the operating systems, intelligence solutions, data storage sources, and analytics tools are all great places to start.
4. Deliver data in real-time
Since data is collected through your own systems and applications, information flows in actual real time from the moment that it is produced; at the hands of your own brand, not when it has to be received. First-party data is already available in your systems, coming from any interactions customers have both online and offline with your company. From webpage visits and form fills to loyalty passes and in-store purchases, a sound data strategy will enable your company to immediately and accurately track, analyze, and engage first-party data as customers move from channel to channel.
How Fobi is Facilitating First-Party Data Collection
At Fobi, we aim to bring first-party data collection to the forefront of your business. Using artificial intelligence and big data tools, our suite of digital solutions enable organizations across multiple industries to seamlessly collect customer data in real-time and derive actionable insights that drive personalized, next-generation consumer experiences.
Passcreator by Fobi
Passcreator is Fobi's flagship solution, giving brands the ability to build and distribute custom mobile wallet passes right into consumers' native Apple or Android smartphone wallets. With a pass for every occasion, such as event tickets, sponsored promotions, and loyalty and membership programs, our Wallet Pass solution opens up a new engagement channel for you to directly target and communicate with your most important clients. You can even keep customers in the loop at any time by sending or scheduling personalized, location-based push notifications straight to their lockscreens.

Tap2Win
Tap2Win uses the Wallet Pass platform and Fobi SmartTap devices to enhance the giveaway experience that traditional methods have struggled to offer. Instead of manually filling out several pieces of paper, customers can simply tap their mobile phones onto Fobi devices and be entered into the sweepstakes. Now, your retailer or brand can collect, store, and analyze the data that would otherwise be physically lost, giving your company immediate access and use to create optimal opportunities for retargeting.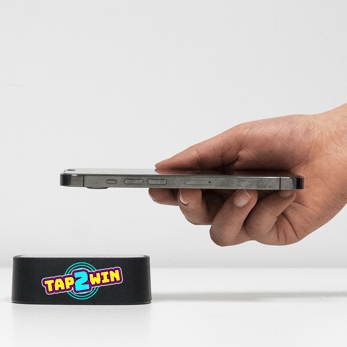 Qples by Fobi
Qples aggregates all of your coupon needs into one simple platform, giving you immediate access to relevant offers, promotions, and discounts at the tip of your fingers. As the only SaaS portal for coupons, Qples enables CPG brands to build, load, distribute, and track traditional print coupons (redeemable in-store) and new digital coupons (redeemable on a mobile device) across your franchise locations and customer base. You can now drive revenue by giving your customers the flexibility to choose how, where, and when they use their coupons.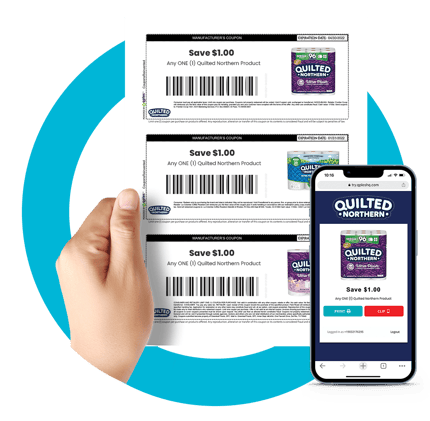 Why Now is the Time to Get Started
As a retailer or CPG brand, personalization means everything. Being able to leverage your customer data and their preferences means that you can target them just before, during, or right after their purchase with relevant promotions and messaging. In turn, your segmented communication is sure to lead to an increase in revenue, brand affinity, and consistent engagement, all while delivering optimized customer experiences that keep your customers coming back to you.
As we've seen time and time again, customer data has become the backbone to delivering a seamless customer experience from start to finish. To achieve this objective, you'll need a partner like Fobi to get you started on your first-party data journey.
Click here to get in contact with our team, and learn more about Fobi and our success stories with other retailers and CPG brands such as Scotch & Soda, Georgia Pacific, and Henkel.