Driven by digital disruption, shifting consumer behaviours, and the need to navigate recent years of supply chain uncertainty, the car dealership industry is once again at a critical inflection point. With inventory pressures continuing to ease, things are looking more optimistic for automakers and car dealerships when it comes to new vehicle business in 2023. As S&P Global Mobility predicts a reset toward prior competitive norms, new and used car dealerships must actively prepare themselves for a more service-oriented and experiential future—one that will require them to explore new ways to deliver exceptional customer experiences that extend far beyond the traditional sales process.
The rapid growth of smartphone apps and subscription services has led to increasing customer demand for alternative ownership models, presenting significant opportunities for tech innovators and automakers to reimagine the car-buying experience for vehicle owners everywhere. By offering auto services that challenge the conventional notions of car ownership, such as leveraging the mobile wallet as a touchpoint for vehicle information and communications, businesses can enhance the car-buying experience in ways that differentiate their dealerships in today's highly competitive market.
Customer Retention in the Car Dealership Industry
Like in many other industries, customer retention poses a significant challenge for dealerships to foster long-term loyalty. Sustaining customer relationships beyond the initial sale is equally, if not more, crucial than acquiring new leads. This belief is especially true when the opportunities for cross-selling and upselling services are just as important as in the car dealership market. When the cost of obtaining a new customer is 7x higher than retaining an existing one, dealerships must prioritize the ability to nurture customer relationships that last well beyond the typical car-buying cycle. Although your relationship may begin with a transaction, it will always continue to grow and evolve as you deliver vehicle service upon service. And by the time your customer is ready to buy their next new or used car, you can be confident that they'll turn to you for your consistent quality service.
Driving Revenue Through Customer Satisfaction & Retention
While there are many ways to measure success in a business, there's no denying that customer loyalty is an invaluable source of high ROI sales. When you've nurtured a relationship where customers trust you and regularly return for servicing, they are less likely to negotiate prices and are more likely to convert through upselling opportunities, generate other fixed-ops revenues (service and parts), and contribute to greater referral business. By ensuring that loyal customers receive exceptional service and support, dealers can build strong, lasting relationships that increase the likelihood of future sales. Because when it comes down to it, converting a service customer into a new or used car sale is often a matter of delivering months to years of enhanced customer experiences.
General Motors once reported that boosting customer retention by 1% equated to 25,000 vehicle sales worth nearly $900 million in 2023. A 2020 study by Maritz Research revealed that car dealers could even see an additional $2.5 million in loyalty-generated revenue by improving customer satisfaction by a single point on a five-point scale. On the same token, a one-point decrease in satisfaction can cost the average dealer up to $4.2 million in lost revenue. With this amount of money on the line, it is crucial for dealerships to prioritize how they can retain their customer base, such as through loyalty programs, engaging and consistent communication channels, personalized promotions, and more.
Ultimately, by knowing exactly when your customers are in the market for a new car and keeping them actively engaged with your dealership throughout the entire customer journey, you can better secure their interest before they defect. Here are five ways you can ensure your car dealership is taking a proactive approach to engage your most valuable customers:
Proactively engage your loyal customers





Personalize your approach through segmentation





Focus on your customers' experience by staying in touch





Secure success in the short term by prioritizing high-quality service





Support future dealership loyalty sales efforts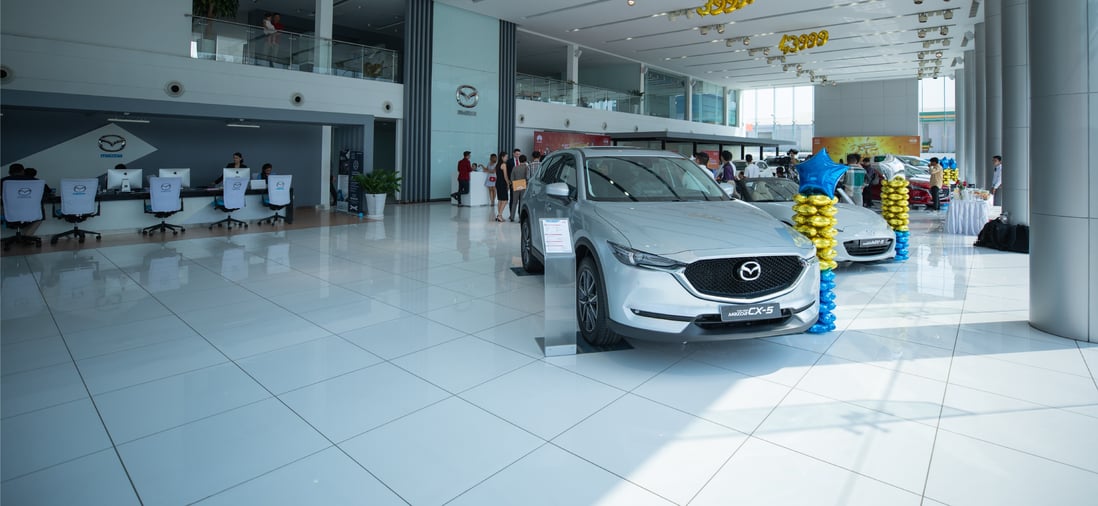 Putting Secondary Servicing in the Driver's Seat
With 76% of car buyers purchasing their next vehicle from the same dealership that performed their regular maintenance, it's clear there is a direct correlation between service experience and customer loyalty. According to the National Automobile Dealers Association (NADA), car dealerships generate approximately 58% of their total sales from the new-vehicle department and 31% from the used-vehicle department, both accounting for less than 26% of total gross profit each. While it may be easy to assume that car dealerships make most of their money from the rows upon rows of new cars, it's the service and parts department, which includes financing, auto insurance, and vehicle add-ons, among others, that bring in the most revenue (nearly 50% of gross profits). Ultimately, when your customers are bringing their vehicles in to be serviced or looking to you to solve an issue, you have the best opportunities to see your investment in customer experience rewarded.
Bringing Ownership into the Mobile Wallet
Fobi's solution for the automotive industry introduces a revolutionary approach to vehicle service and loyalty, leveraging mobile wallet technology to deliver unique and personalized experiences for car owners. When 54% of customers are willing to pay more for an improved car-buying experience, being able to address long-standing and universal pain points—while they're still on the lot—makes a massive difference in the quality of your dealership's service. We've all been there; trying to remember or access your vehicle information, such as your VIN (vehicle identification number), license plate, or warranty details, once you leave the dealership is an immediate challenge, more often than not. But Fobi's MyCar Pass solution solves this issue by providing a one-stop shop for all car-related information directly in the mobile wallet. Through the wallet pass, customers can easily access their vehicle details, warranty information, service appointments, and other related links, all in one place right on their phones.
With the MyCar Pass, your dealership can enable:
Enhanced customer experiences. Move vehicle owner details right into the mobile wallet for easy accessibility and retrieve customer information without a hassle every visit.


Effective, two-way communication. Ensure customers book repairs and servicing with real-time reminders and messaging sent directly to the lock screen via SMS and push notifications.


New-line revenue through upselling. Offer new vehicle upgrades and sell additional services that turn customers into big spenders.


Increased owner retention. Boost loyalty, conversions, and sponsorship exposure with personalized offers, vouchers, and content.
Creating Value for Car Dealerships
Fobi's MyCar Pass is a win-win for both customers and car dealerships. The all-in-one tool allows car dealers to enhance their post-sale service and drive increased secondary purchases, which are crucial for dealerships as a large portion of their revenue comes from parts and vehicle servicing. With direct-to-lock screen communication, dealerships gain greater opportunities to sell additional services, upgrades, and entirely new vehicles, which can all be promoted via exclusive deals, loyalty programs (i.e. stamp cards), sponsored offerings, and more. MyCar Pass also makes onboarding seamless and offers enhanced customer experiences once shoppers purchase their vehicles. Integrated into the sales process, dealership representatives can immediately equip customers with their personalized MyCar Pass and have them download their pass into the mobile wallet before they drive off the lot.

Ready to drive enhanced car-buying experiences, lasting customer loyalty, and new-line revenue growth? Contact us to learn how Fobi's MyCar Pass can revolutionize your dealership's vehicle service and loyalty strategy, and start providing your customers with a next-level vehicle ownership experience today.