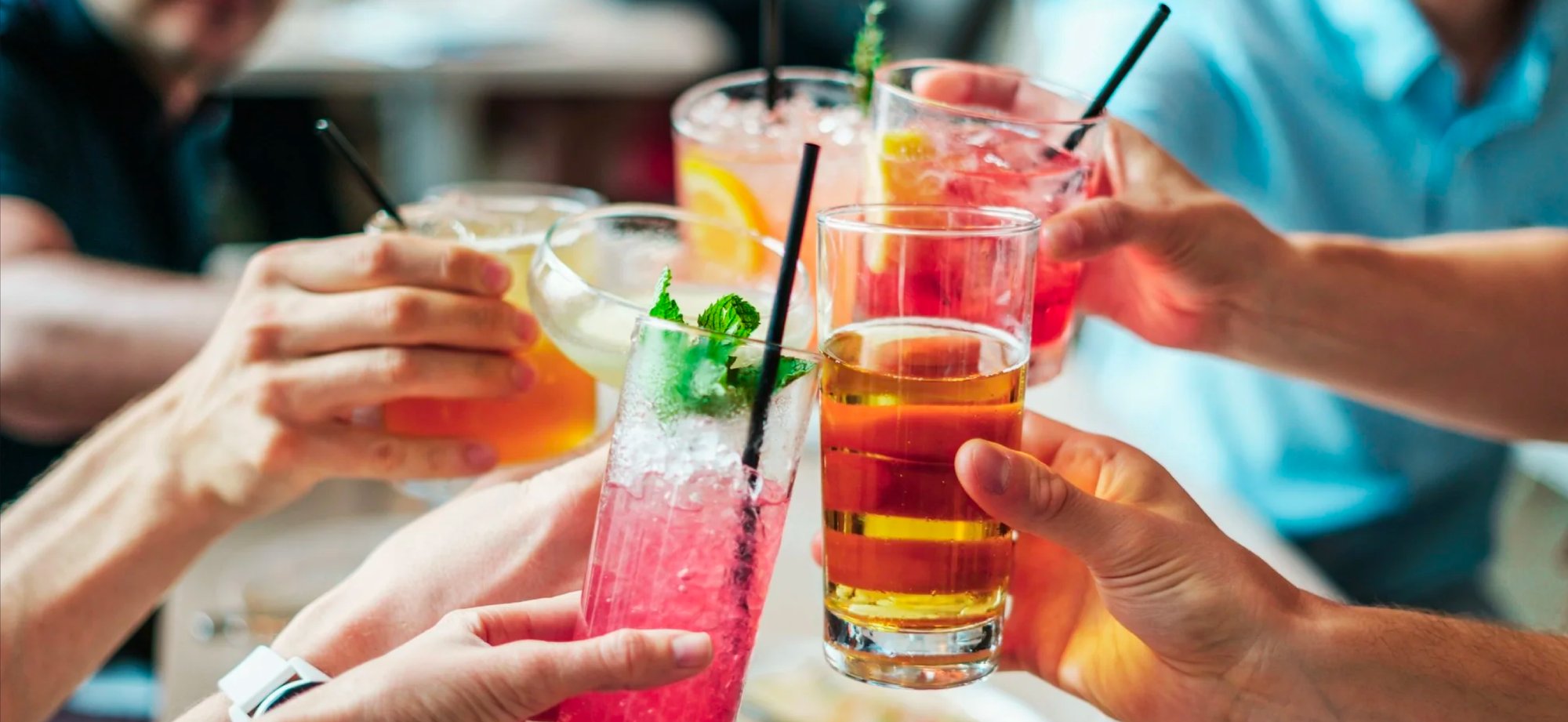 From late spring to early fall, Canada celebrates a number of statutory holidays. But to many, what matters most are the long, sun-filled days sharing drinks with friends on these special occasions. Every year, the summer festivities begin with Victoria Day, commonly known as the May Long or May Two-Four weekend. June ushers in Father's Day, while July celebrates the nation's birthday, Canada Day, setting the stage for August's BC Day or August long weekend. Finally, we bid adieu to the sunny season with September's Labour Day long weekend celebrations. What better way to add flavour, fun, and fulfillment to every warm summer weekend than to indulge in the latest beverage alcohol trends?
Leveraging the Fobi Insights Portal, we gathered exclusive, real-time data from hundreds of liquor stores nationwide to better understand how Canada's sun-drenched long weekends impact the liquor industry—all so that you can better plan and buy for next summer and make data-driven decisions that capitalize on these evolving sales trends.
Here are our top findings for this year's liquored-up summer:
1. Nothing's better than Fridays in the summer.
From June to August, our data shows that, overall, Fridays reign supreme as the go-to day of the week to stock up on beverage alcohol. However, in the month of July, Saturday quickly stole the spotlight for the top-performing sales day, likely due to the influx of demand on Canada Day as Canadians prepared for the long weekend, summer vacations, parties, and outdoor events.
Interestingly enough, when July rolled around, Mondays were not to be overlooked as they showed increased alcohol consumption compared to other weekdays. Talk about a spirited way to start off the week!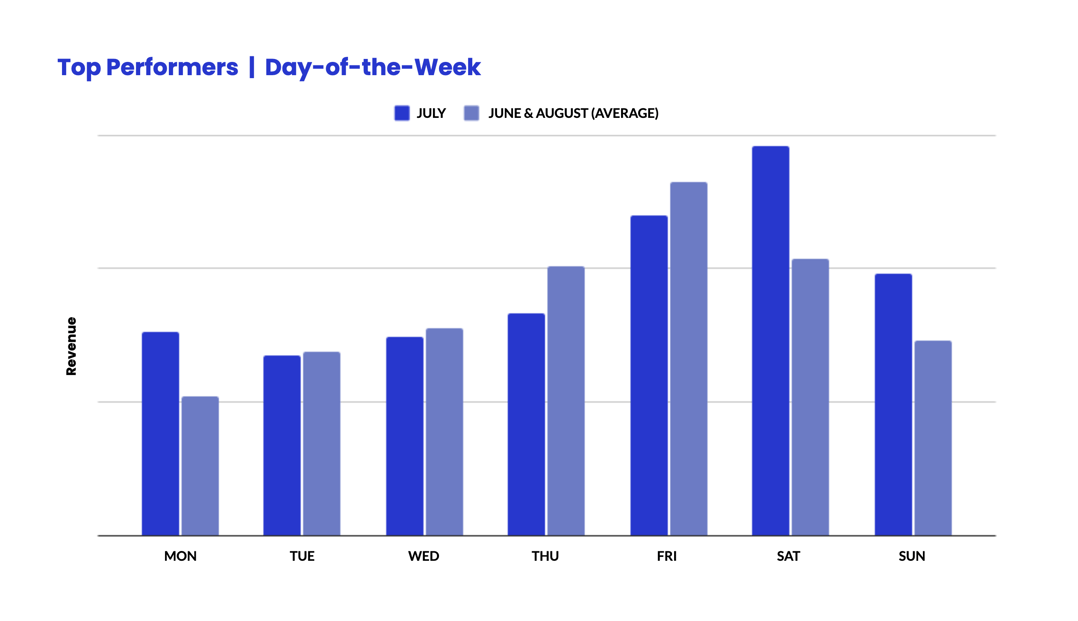 2. Canada Day weekend is the booziest weekend of them all.
From May to September, our data revealed that the Canadian holiday ranks as the #1 long weekend for liquor sales, closely followed by BC Day, Victoria Day (commonly referred to as the May long weekend), and then Labour Day. Not only did the long weekend take the crown, but June 30th, the Friday going into the Canada Day long weekend, came out as the highest sales-generating day this summer for all alcohol categories (e.g. spirits, beer, wine, etc.) except ready-to-drink (RTD) beverages. Instead, RTDs experienced their peak sales day on Saturday, which was Canada Day itself (July 1st).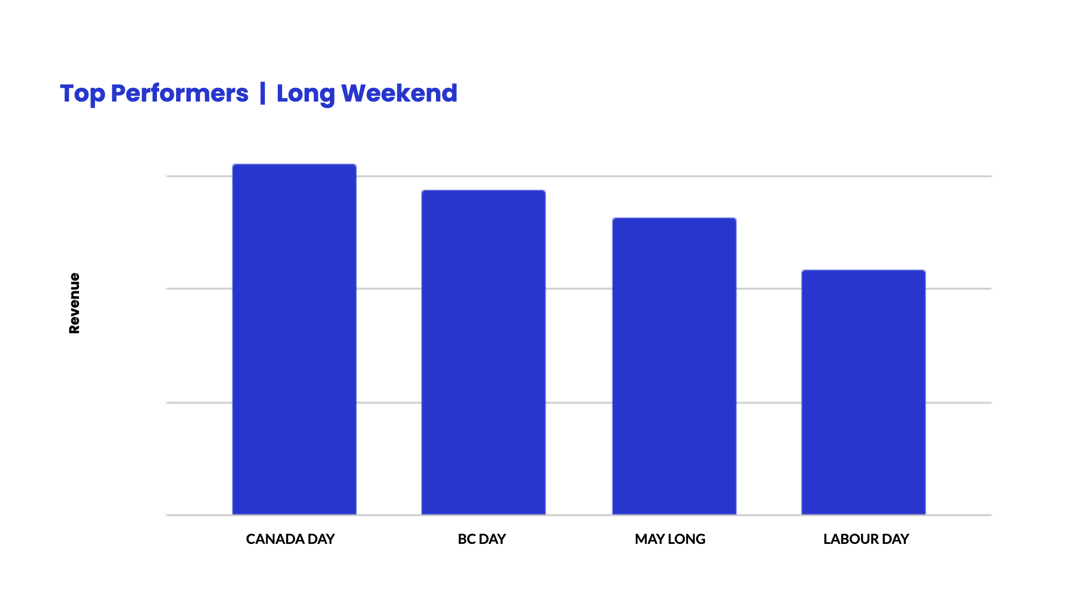 3. Get in the spirit: Tequila brands led the way among primary liquors.
In the realm of Spirits, tequila brands, without a doubt, took center stage this summer. Seeing the largest sales growth in the Spirits category at +6%, tequila's prominence in liquor preferences drove revenue growth in liquor stores across Canada.
There's no time more important than the summer to have refreshing pairings, and that's what sets tequila apart. With rejuvenating limes, ice, margarita mix, the classic appeal of coke, and the crispness of Schweppes, these perfect pairings accompanied tequila's growth this summer.
Here are some of the standout tequila brands driving revenue growth for the world of Spirits: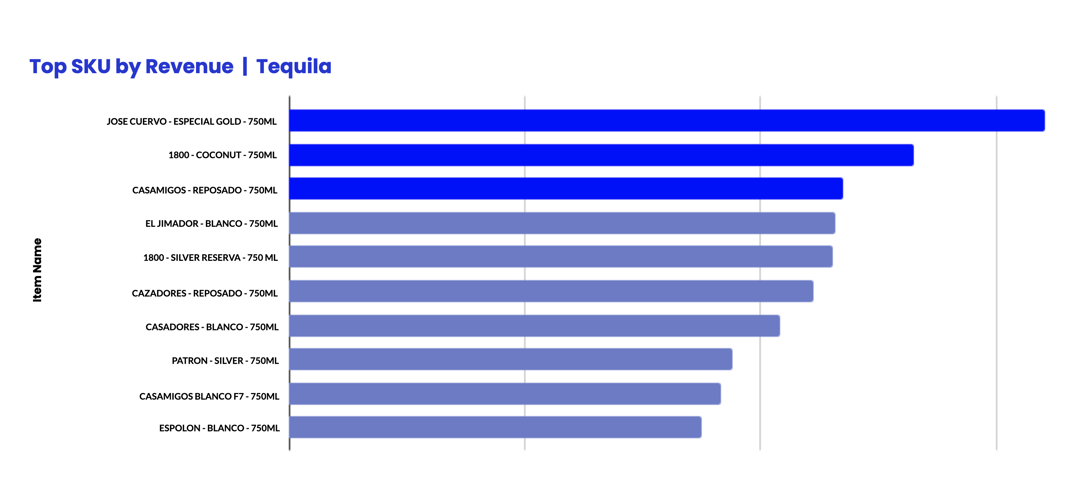 4. Tequila-based RTD beverages started and ended off summer better than ever.
In line with the tequila trend, Olé Cocktails continued to dominate the RTD space this summer, as early signs showed us in our analysis of liquor trends during the Canada Day long weekend. By the end of August, Olé Cocktails sales grew by +153%, particularly displaying strong growth for its tequila-based variety packs (+293%) and margarita cans (+103%). Not only did this strong sales performance cement Olé Cocktails' position in the refreshment beverages category, but it also showcased the strong appeal of tequila-based RTD canned cocktails, revealing a season of impressive growth and a future of increasing demand.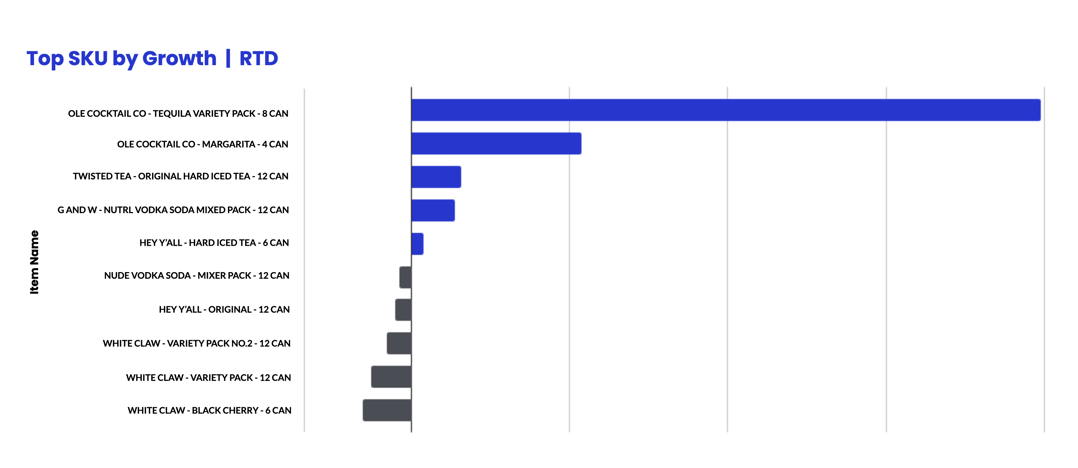 5. One of the summer's most popular Liqueurs are 99-proof shots.
99-proof shots easily became one of the most sought-after Liqueurs of the summer. The 99 Brand played a significant role in pushing Liqueurs into the spotlight. Representing the second highest growth performer in the Spirits category, 99's sales grew by +131% from June to August. This overwhelming increase in sales ultimately led 99 Brand to secure a spot as the top fifth Liqueur brand by revenue following Fireball, Baileys, Jagermeister, and Carolans.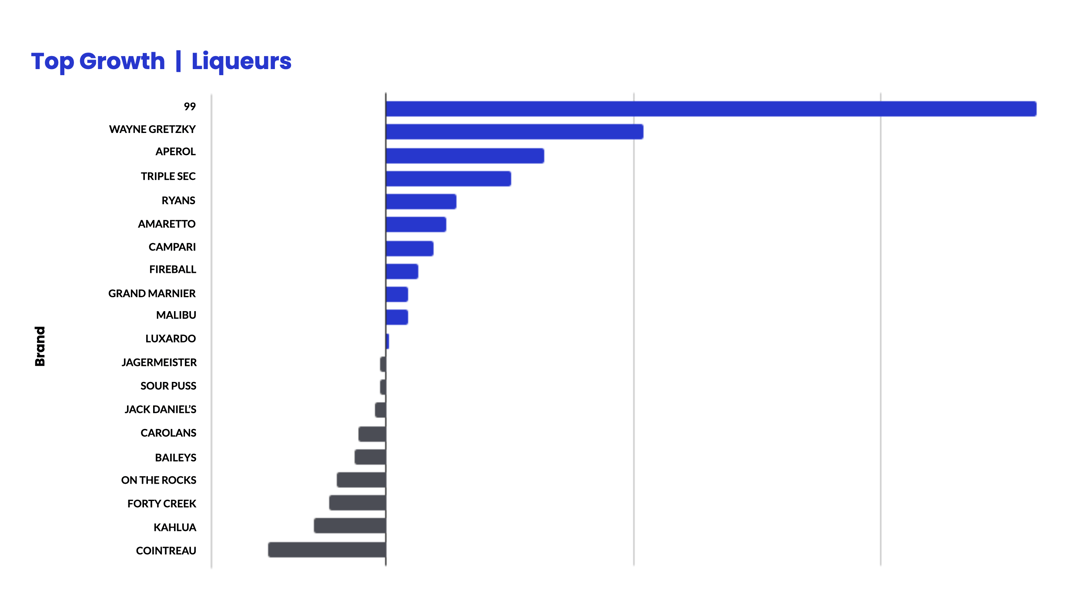 Containing a high ABV of 49.5% alcohol content in only a 50ml bottle, "airplane bottles" are often found on flights, trains, hotel minibars, and many other places where full-size bottles of alcohol are not as practical. These tiny bottles of liquor populate till countertops and checkout aisles at around $2 to $4, making them difficult to resist. When checking out and your total comes to $18, what's $2 more? The "grab and go" nature of these 50ml bottles lets you "try before you buy," allowing you to consume a high alcohol content with no commitment. What's the harm? Whether you love it or hate it, once you sample it, it's already gone!
But what flavours are Canadians gravitating toward? Here are the 99 Brand products, particularly 50ml airplane bottles, that represent the top three SKUs across Liqueur growth:
99 Blue Raspberries (raspberry schnapps liqueur) – +166% increase in sales
99 Bananas (banana schnapps liqueur) – +95% increase in sales
99 Peaches (peach schnapps liqueur) – +71% increase in sales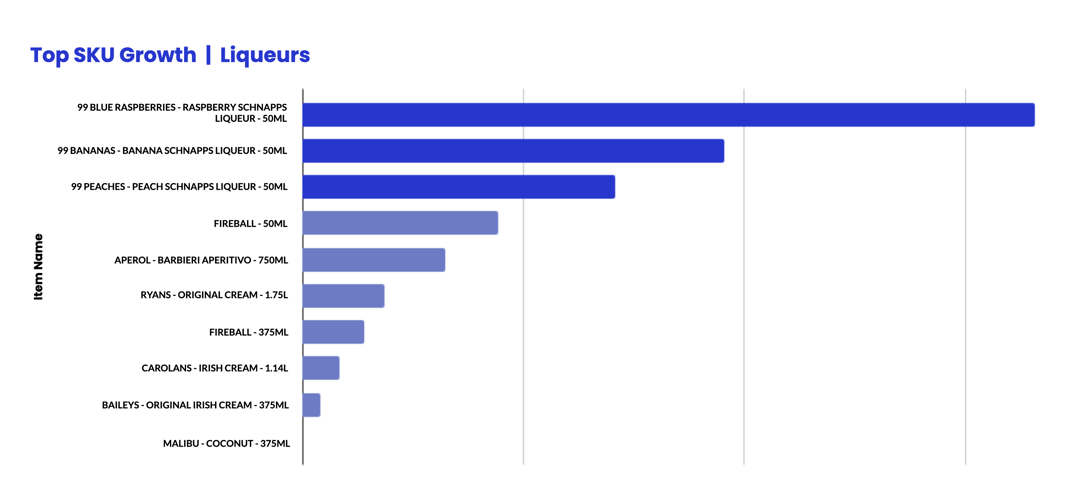 6. Limes are no longer just for bottled cold ones.
While Corona's are well-known for their classic pairing of limes in their bottled beers, it looks like limes have made their way back into the can, but in a different way. When it comes to putting lime in a can—and Mexican Lime Lagers in particular—it looks like La Cerveceria Astilleros took home the win this summer with 44% of market share.
In the microbrewery scene, La Cerveceria's Salted Lime Lagers proved to be the top dog, generating the highest sales figure this summer, growing +14% in popularity compared to the previous year. Incorporating lime into more beers has not only brought a fresh twist to the lime beer landscape but has also secured its position as a refreshing summer staple, satisfying the taste buds of beer enthusiasts across the nation.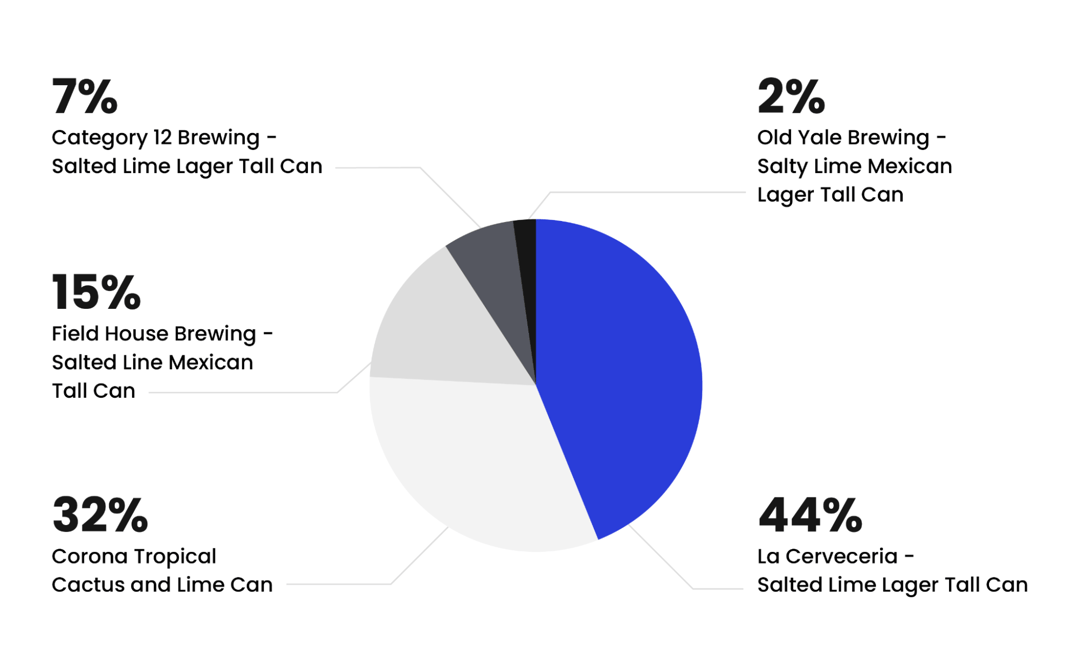 Cheers to a Data-Driven Summer
While Canada Day took first place for the summer's most spirited weekend, the beginning of summer to the end was celebrated with fun and flavourful spirits. From the newfound appreciation for lime, which has evolved beyond its classic role as a companion to chilled Corona bottles, to the rising star of 99-proof shots, establishing itself as a favourite among liqueurs this season, the warm months brought a newfound appreciation for classics, in addition to discovering new staples.
Using Fobi's Insights Portal, we empower breweries and liquor stores to stay ahead of their competitors by providing real-time liquor data, guaranteeing your inventory aligns with the changing demands of each season. To discover how you can elevate the future of your liquor business by accessing invaluable insights, contact us today at https://www.fobi.ai/contact.
David Nicholls, VP of Liquor Beverage at Fobi AI, states: "For many, summer is a time for trying new things, whether a new cocktail, RTDs, beer, or wine. We've captured some of these trends here to help retail liquor stores with their 2024 planning and buying. The other critical component is the real-time data that we're able to provide from our Insights Portal that manufacturers and liquors can now access to better and more accurately adjust their businesses in the summer months to maximize their potential."
As we close out the final chapter of Summer '23, let's toast to the latest liquor trends that brought us together to celebrate the greatest joys of the season.